Although Vizio has many features at a very effective price, it has many errors too.  For people who have faced Vizio SmartCast Error Code 2601_1 recently, this article is the place where they will get information that will resolve this error code.
What is Vizio SmartCast Error Code 2601_1?
Vizio SmartCast Error Code 2601_1 is a connectivity issue that usually occurs when the TV fails to connect to the network. So, once the connectivity issue is resolved, the error code will be fixed.
Network connectivity problems could arise due to many factors.
How To Fix Vizio SmartCast Error Code 2601_1?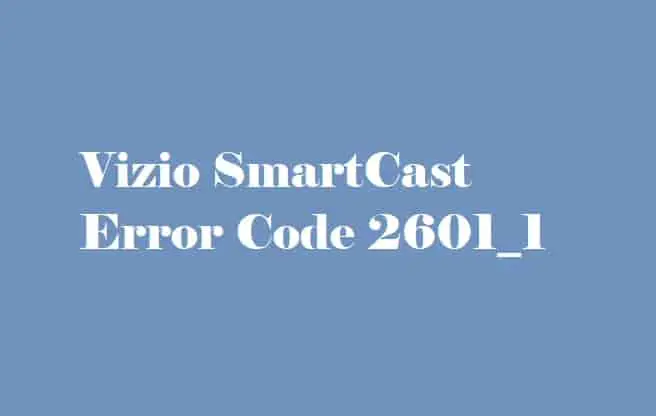 Since the error is due to interference in the network connection, we will try to resolve the connectivity issue and the error code will automatically resolve.
Reset Your Router/Modem
Resetting your router or modem is good enough to provide a fresh connection to your TV. Press and hold the reset button on the back side of your router or modem. Leave it after 5 seconds. Try reconnecting your TV.
If it is still not connecting, try the second option.
Power Cycle Your Router/Modem
Power off the router and unplug all wires connected to it. Leave the machine for 10 minutes and replug all the wires. Power up the router again and try connecting the tv again.
Install Updates For Your Vizio SmartCast 
Your TV could disconnect from your internet due to pending updates. If your TV is running on an outdated version, this could cause connectivity problems. Update your TV and try connecting it again to your internet.
To update your Vizio SmartCast TV, 
On your VIZIO Remote, Press the Menu button. Next, select the System Option and then Select the Check for Updates Option. Install if any update is available for your Vizio SmartCast TV.
Factory Reset Your Smartcast TV
To do a factory reset on your Smartcast TV,
Press the Menu button on your VIZIO TV remote and highlight and select the Reset & Admin option.
Now, highlight and select the option- Reset to Factory Settings.
Lastly, select the Reset option and all is done.
Complete the First Time Setup of your TV and this will fix the error code 2601_1.
Contact Support 
We always try to ensure that you don't need to contact the support, but if the issue is still alive, there are no other ways that we have to provide you unless contacting the support.
To connect with Vizio support, visit this link –