Amazon provides IMDb Freevee for streaming for free. This app is ad supported but, you can watch thousands of movies and shows here without any charge. Fire Stick TV users are facing error code plr-1002 and there needs to be more information that can guide them to fix it.
Here, we have some precious information about this error that can help the users who are infected by this error.
How to Fix Fire Stick TV Error Code plr-1002?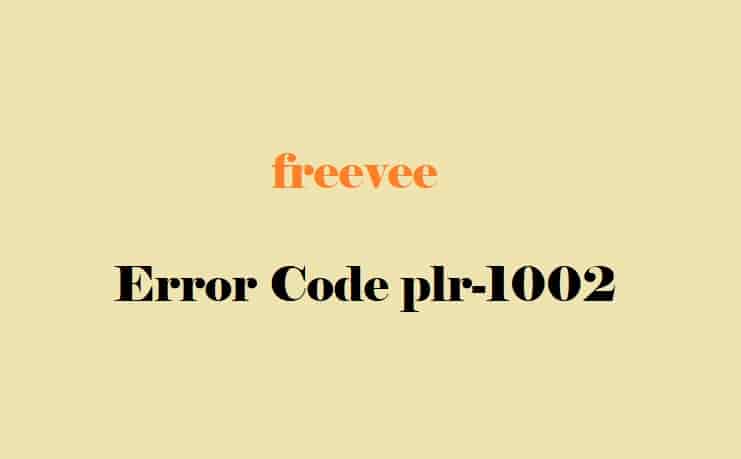 The error code is a result of interference with the internet connection so, power cycling your device ( internet and Fire Stick TV) could be the best solution.
Power Cycle Your Router/Modem
This is a process to provide a fresh connection. Most of the time, power cycling your internet device will solve the error code. 
So, the IMDb tv or Freevee, or Fire Stick TV error code plr-1002 could be solved by restarting and power cycling your router or modem.
To do this, 
Unplug the modem from the power source and detach all the cables from it. Leave it for 4 to 5 minutes and then replug it and turn it on.
I hope this will fix the error. If not, do the next task.
Power Cycle Fire Stick TV Device
First of all, disconnect the Fire TV device from the power point or adapter.
To plug the Fire TV device, use a power cord or adapter, included with your device. 
Make sure that the Fire TV has access to enough power.
Leave the device for 25 min (turned on) or until the screen changes.
Troubleshoot HDMI
Tryout these hacks:
If possible, try with and without an HDMI adapter or extender to check if there is any issue with the HDMI adapter or extender.
Ensure that you're using a high-speed HDMI cable.
Also, you can use a different HDMI port.
Try plugging the Fire TV device directly into the TV for HDMI hubs.
Make sure that your TV is HDCP-compliant. 
Once check the video-cable section of the TV owner's manual to know more.
Note: If the issue still persists, try to reset your Fire TV device, but note that all your settings like account information and the downloaded content will be deleted if you do this.
Factory Reset Your Fire TV
Follow these steps to do this,
From the Fire TV menu, select "Settings." 
Select "My Fire TV" or "Device & Software", after that, scroll to the bottom of the list. 
Now, select "Reset to Factory Defaults" and confirm your selection.
This will reset your Fire TV and hopefully, the issue will resolve then.
You have another choice to do this, you can do a factory reset on your Fire TV device using your remote:
Note: if you use external storage, safely eject it.
Press and hold the Back and right sides of the navigation circle together at least for 10 seconds.
Next, choose to continue or cancel the factory reset. 
If you haven't any selection, the device will reset automatically after several more seconds.
Final Words
There is much possibility that the 3 ways from the start will fix the freevee error code plr-1002, but if they fail, the last method will help.
Besides having many errors, IMDb TV or Freevee has much content that is free of cost. 
So, enjoy your content and tell us which method helped you.
Read Also- Playback_Renderer_Error on Amazon Prime