Crypto is popular among all who know about this and if you are one of these people and want to buy crypto, you will get not a single but many options for the same. MoonPay and Simplex are two of all platforms where you can buy Crypto. If you want to know which one is better to proceed with, this guide has a detailed comparison between these two platforms which will be proficient in determining Simplex vs MoonPay. But before proceeding, let's understand what is MoonPay and Simplex.
Simplex: An Overview
Simplex is a licensed and free way to buy crypto. This platform was founded in 2014, and since then, it has become a popular platform to buy Crypto and perform many financial tasks too. This platform accepts payment from credit cards. 
As its name is Simplex, this platform has an aim to provide a safer environment for the people so that they can invest without any worry. There are many frauds in the cryptocurrency market, and that's why this platform is dedicated to doing so that users can feel safe.
We all know that the Cryptocurrency market is going rapidly these days. So the platforms to provide a safer environment for the people are also increasing. Simplex is one of them but, it is not alone in the market, there are some other platforms too, like MoonPay. So, let's know about MoonPay.
MoonPay: An Overview
MoonPay is a platform that offers buying bitcoin, Ethereum, and other cryptos. So if you want to invest in these, you can select this platform. This platform also provides a safer environment so that users can trade without any tension. 
This platform supports more than 80 currencies. This was launched in 2019 and is newer than the Simplex, which was launched in 2014.
However, as a user, if you doubt which platform will suit better for you, just go through this comparison guide and select the right choice according to your need. 
Simplex vs MoonPay: Usability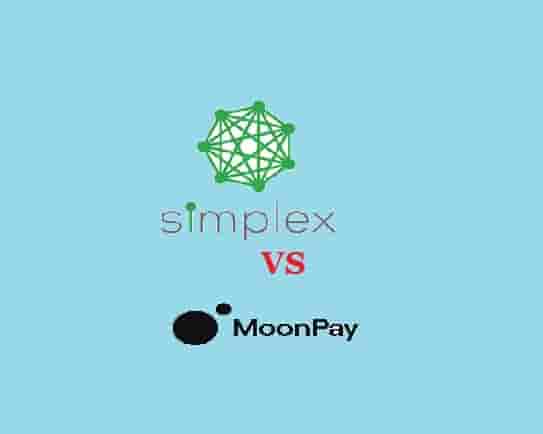 Let's see how you can use both platforms.
If you want to use Simplex, this does not need any registration process. You can use it by directly paying via your debit card/credit card or Apple Pay account. But, if you are going to make payment via SEPA or SWIFT then, you need to have accounts on these platforms, and also their KYC.
While if you want to use MoonPay, you need to register on this platform first. For the registration process, you will need to ask to provide your name, address, date of birth contact number, and ID issued by your country's government.
Simplex vs MoonPay: Features
Both have many features, some are common and some are different. Let's see these features in a table view.
Features
MoonPay
Simplex
Free wallet
No
No
Product Type
Cryptocurrency Payments
Cryptocurrency Brokerage
Supported Coins
80+
33
Trading fees
Bank transfer: 1% Card payments: 4.5%
3.5% to 5%
Maintenance fees
No
No
Insurance
In MoonPay, you will not get insurance and you don't directly hold funds like other crypto exchanges.
No, it also doesn't have insurance.
Supported payment types
You can make payment via Credit card/Debit card, Apple Pay, Samsung Pay, or GooglePay.
Only have an option with Credit card Debit card.
Security
MoonPay has AES-256 block-level encryption and two-factor authentication for security purposes.
It has strict standards with the regulation of jurisdiction approved by the central bank.
Mobile Apps
No
No
Desktop App
Yes
No
Customer support options
As customer support, you can register an online complaint from their website. Additionally, you can directly contact their customer support at support@moonpay.com
Contact them at support@simplex.com or can book a new ticket to submit an online request.
Promotions
None
None
Simplex vs MoonPay: Features
Simplex vs MoonPay: Pricing
As a processing fee Simplex takes 3.5% to 5% of the transaction value. As the minimum fee Simplex takes 10$ and it increases as the amount increases. Also, Simplex charges extra fees when a user makes a payment with a fiat currency other than USD and if a purchase is issued from Simplex.com, a 13% transaction fee will be required.
If we talk about the MoonPay pricing it costs 4.5% with min. €3.99/£3.99/$3.99 or currency equivalent when using a card or 1% min €3.99/£3.99/$3.99 or currency equivalent when making a bank transfer. Additionally, you will have to pay a network fee if you purchase BTC, ETH, and ERC20 tokens and this will be based on the conditions of the blockchain network.
MoonPay vs Simplex: Pros and Cons
Let's see in a table view:
MoonPay: Pros and Cons
| | |
| --- | --- |
| Pros | Cons |
| MoonPay is very easy and has a fast way of buying Cryptocurrency. | The processing fee is higher than other cryptos exchanges. |
| The account Verification process is very fast as the other platforms took much time. | Availability is limited. This is not available in all the states of the USA. |
| It has an updated spending limit. | |
MoonPay Pros and Cons
Simplex: Pros and Cons
| | |
| --- | --- |
| Pros | Cons |
| Pay using a credit/debit card. | Not compatible with some Cryptocurrencies. |
| The payment process is very fast. | It has a higher fee compared to the other Crypto Exchanges. |
Simplex: Pros and Cons
Final Words
Now, we hope you can differentiate well between Simplex and MoonPay. Both platforms have their features. You just need to see your requirements and select one that fits you. Tell us which one you are going to select and why? If you have any questions or doubts, ask us without any issue.
Common Questions Asked by Users
Is MoonPay secure?
According to the website, MoonPay uses AES-256 block-level encryption, which is very safe. So, Yes MoonPay is secure to use.
Is MoonPay a US company?
MoonPay is based in Miami, Florida which is in the US but, it is in more than 160 countries. 
Is Simplex trustworthy?
This is an authorized financial organization that uses an extensive range of payment methods, including Visa, MasterCard, Apple Pay, SWIFT, SEPA, and many more! However, you must read their terms of use.
Which is better MoonPay or Simplex?
Both have some features in common and some differences. You have to see all the pros and cons and match them to your need. After that, see which platform fits well with your need and select that.