These days- Satellite televisions are growing rapidly, replacing the older mode of cable networks. Epix and Starz are from these. But, if you have any confusion that which one is better to select or looking for a detailed comparison guide on Epix vs Starz, then this is the right place.
Premium cables and satellite Television networks are growing very fast as they provide many entertaining products according to your choice. However, some of them come with the TV provider plan, and some needs to purchase after. Moreover, some other satellite television networks provide a few parts of their content, free of cost.
So, if you have bored watching regular shows, it is time to switch to satellite TVs such as Epix or Starz.
Now, the difficult thing is to select one, either Epix or Starz. Don't worry, read this opinion guide on the comparison of both, and decide then, which one is better for you.
But, before going to the comparison, let's see what these platforms are- in brief.
Epix
Official Website- https://www.epix.com/
Epix is not only a premium cable but also a satellite TV network that offers thousands of entertaining content to its users. However, these days OTT platforms such as Netflix, Amazon Prime, Hulu, Disney Plus, Paramount Plus, etc have acquired the market mostly but, TV cables have their place separately.
Epix is one of such premium cables that offer a full dose of entertainment and keep the users engaged with the provided content.
As a user, you can stream TV shows, movies, or any other videos on it. This has a huge library of content -that can easily satisfy your need.
Starz
Ofiicial Website- https://www.starz.com/
Like Epix, Starz is also a premium cable and satellite TV network- that offers a huge range of content to its users. It was founded in 1994 having headquarters in Santa Monica, CA. 
So, if you love sitting in front of your Tv and watching series, movies, and TV Shows then, Starz could be a good option for you.
But, this guide is all about telling you other features and facts about Epix and Starz so that you can select one of them.
So, without taking any time, let's move to the other facts about these platforms.
Epix vs Starz: Pricing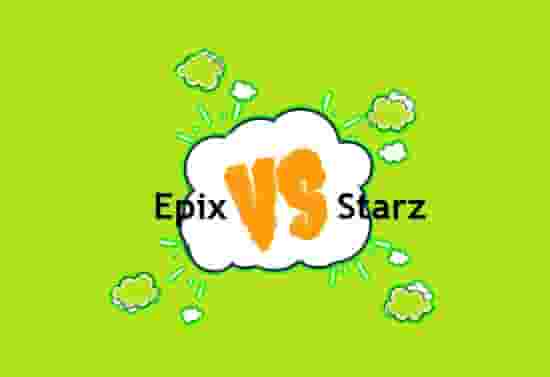 When you are comparing two streaming platforms, the first thing that has come to your mind is how much they cost for their services. Here, we are comparing Epix and Starz, so let's see how much these platforms cost for their services.
Epix cable is free for use but upgradable to Epix Now with premium. Epix has a monthly payment option with a cost of  $5.99 a month for 4 channels. Additionally, you can also download videos offline. While Starz cost $8.99 per month but for 17 channels. Starz does not come with a free version, but you can access it for 7 Days as it provides 7days free trial.
So, I would like to go with Starz if I love to watch a huge range of entertaining content as in Startz there are 17 channels. While, if I am selected with some content and also a cost lover, I will go with Epix as it cost only $5.99 per month for 4 channels. What is your choice, comment us.
Epix vs Starz: Features 
Epix now –
This allows users to stream TV series and movies live or on-demand.
If you are not interested anymore, you can cancel the subscription anytime.
If you take a subscription, this will give you access to ad-free content.
Will get 4 channels at $5.99 per month cost.
Straz –
Starz comes with a free trial for 7 days.
The Video quality can rise to 1080p with an ok speed of internet.
You can stream any episode and movie through the App as well as the Website.
You will get 17 channels at a very low amount of cost.
Epix vs Starz: Experience
For Epix, you will get a free version to run while you are required to opt for the free trial of 7 days only if you wish to check the services of Starz before paying for the subscription. Both Starz and Epix, work smoothly as long as the device is compatible and the network connection is good, or no issue is appearing from your side or the server side.
If we talk about the user experience, Epix cable is easy to manage and use. It won't show bugs or any issues often and works smoothly if the device's software and model are not old. For Starz, using their cable is easier than using its app or the website.
According to the platform usability, the Epix app can be used on all general devices while Starz's app is similar to its website. 
If we talk about device compatibility, the Epix app is available to download on almost all popular devices such as on iPads and iPhones, Android phones, Apple TV, Roku and Fire TV, and tablets and TVs. While Starz is compatible with Apple devices, Xbox, Android TVs, Amazon items, Amazon fire TVs, Android Tablets and smartphones, LG TVs, Samsung TVs, Sony TVs, Apple TV devices, and Roku devices.
Both- Epix now and Starz can be customized slightly according to your needs. You can get customization options by accessing the settings or Profile Page.
Account accessibility: If you will go with Epix, this allows you to stream its content on 3 different screens at a time in a single subscription. While with Starz, you will be allowed only one screen streaming for one subscription.
Final Words
We hope this guide was helpful to you and proved an asset to you to figure out which one is better- Starz or Epix. However, we have tried to explain all the important things that are needed to select a satellite TV network, but if you want to know something else, comment to us. Selecting one from these both totally depends upon your requirements. 
Frequently Asked Questions
Is Starz and Epix the same?
Starz is not a part of Epix. Both work Independently and are different, However, both belong to the same category. 
Is EPIX free with Hulu?
No, it's not totally free however, you can get its 7-day free trial. 
Epix vs Starz: which is the best?
It depends upon your needs, if you are looking for a cost-effective service, Epix is good as it cost only $5.99 per month. While Starz takes $8.99 per month. But, if we talk about the channels provided by both platforms according to their cost, Epix only provides access to 4 Channels while Starz provides 17 channels.