Both Tidal and Deezer have many similarities- like both have millions of tracks that users can access daily. If you are a music listener and love to listen to a variety of music to get entertain yourself, then you have many options, as these days many applications are available online that provide sufficient content. Deezer and Tidal also belong to such types of applications. But, which is best for you? This question is very common among users who want to use applications to listen to music. This guide is all about Deezer vs Tidal, and we have our own opinion on both the applications, and we hope, you will get benefited.
If you are looking for an opinion guide, or if you want to know which application should you keep (Deezer or Tidal) on your device and which one is not then, this guide will help you to get your answer. 
So, let's start a detailed comparison on this topic.
Deezer vs Tidal: A Short Description.
First of all, you should know what Deezer and Tidal are? So, before moving forward, we would see what these applications are, or a short description about these two applications.
Deezer: Deezer is a platform where you can listen to hundreds of thousands of music, podcasts, and songs. In simple words, Deezer is an online music streaming service having its headquarters in Paris, France. The services of this platform are not limited to Paris and France but- it has more than 180 countries where a user can get the services of this platform.
Tidal: Tidal is a subscription-based music streaming service launched in 2014 by the Swedish company Aspiro. If we talk about the availability of this platform then, this is available in more than 61 countries. 
Now, the time is to know more and let's start with the pricing first.
Deezer vs Tidal: Pricing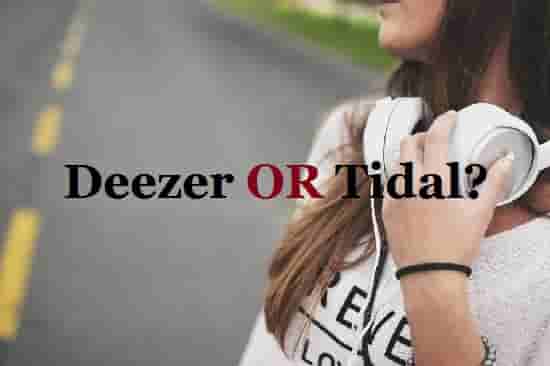 Deezer starts with a free plan means- you can use this platform for free, however, there will be some restrictions. In its free plan, users must watch ads and no offline listening will be available with an audio quality of 128kbps MP3. Besides of free plan, Deezer comes with three paid plans: Deezer Premium, Deezer HiFi, and Deezer Family. Its first plan costs $9.99/month, second and third plan costs $14.99. Whereas Tidal lacks to provide a free plan but it has more subscription plans than the Deezer, and this platform provides some extra benefits to the students and military service people.
Deezer vs Tidal: Music Library
Both Deezer and Tidal have many songs and playlists but, in Deezer, you can play a song with the lyrics while in Tidal you will not get this feature. But, if we talk about the song's database of both the platforms, Tidal has a more vast music library than the Deezer. The reason behind this is that the Interviews and the live performing videos are much more on Tidal than the Deezer. As a standard feature, you can download any track from both platforms.
Deezer vs Tidal: Does Deezer have better sound quality?
As a music lover and listener, sound quality is the most important thing that should be noticed when you are going to select a music platform. So let's discuss the sound quality of Tidal vs Deezer: Which platform has a good sound quality? You can easily understand this segment by the table that is given below:
| | |
| --- | --- |
| Plans | Sound Quality |
| Deezer Free | MP3 – 128 kbps |
| Deezer HiFi | FLAC – 16 bit 1,411 kbps |
| Deezer Premium | MP3 – 320 kbps |
| Tidal Free | AAC – 160 kbps |
| Tidal HiFi | FLAC – 16 bit 1,411 kbps |
| Tidal HiFi Plus | FLAC – 16 bit, 44.1 kHz or MQA – 24 bit, 96 kHz |
Deezer vs Tidal: sound quality
Final Words
We have provided this opinion guide in good faith and according to the pricing, sound quality, and music library. We hope, you have now able to select the platform according to your need. If you have any doubts or queries, comment and share them with us. Thanks on behalf of the TechTipsNow team.