Entertainment is very important to all and therefore people use many platforms to entertain themselves, and TV is one of them. Without entertainment, life is less enjoyable. Now, TV companies upgrading their products day by day in this era. People use many TV brands like LG TV, Samsung TV, Sony, etc. Like all electronic items, TVs have too, many bugs and errors in them. We will talk in this article about one such error. Samsung TV users get often Samsung TV Error Code 107, which is a very common error.  
We are going to discuss this error code that will help you resolve this error code from your screen.
We will discuss all this, like what it is, when it appears, and how you will fix this.
So, be with us till the end!
Related:

Samsung TV Error Code 012

How to Fix Samsung TV Error Code 116

Fix Samsung TV Error Code 189
What does Error Code 107 indicate on Samsung TV?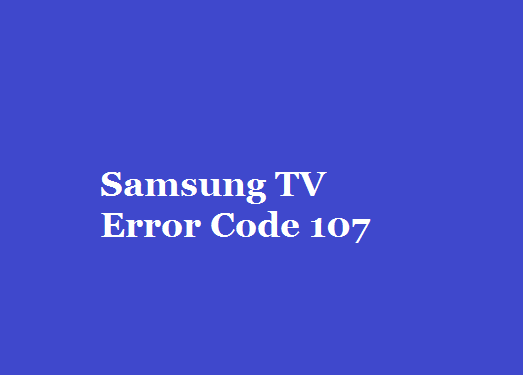 The Samsung TV Error Code 107 indicates an OpenAPI issue and generally appears when your TV is unable to connect to the Samsung server. A proper internet is mandatory to function the smart hub properly. Generally, troubleshooting your internet connections helps to fix this error code. In addition, updating your TV's firmware to its current version may also help.
Sometimes, a hindrance occurs in the connection between the Smart hub and the Samsung server which can be due to several reasons. 
How to Fix Samsung TV Error Code 107?
As this is an OpenAPI issue that occurs due to an unstable or slow internet connection, you can fix it by doing these actions:
Check for a stable internet connection.
Check for a stable internet connection
A stable internet connection provides a good atmosphere for the Smart Hub to work properly. So if you are getting Samsung TV Error Code 107, you should first:
Check your internet connection. Just restart your router and wait for 2 to 4 minutes and then restart it.  
Keep your router closer to your TV for a better signal.
Try to connect your TV to another internet, if possible.
Update the Firmware
Sometimes, users install bad firmware, as some users were complaining that they saw this error code after installing the firmware 1169, 1303, etc. If you have done the same, you need to install a new version or you can roll back to the previous one.
This becomes very easy if you have connected your TV to good internet. If you are not able to connect the TV to the internet, in this case, you have to download the files on a USB drive and then connect this drive to your TV. Here are the steps for settings:
Open Settings on your Samsung TV.
Search for the support option and click on the Software update in this.
Now, select the update via USB option and click on it.
Check now, your issue should be resolved now.
Correct or Reset the TV settings
If you have applied the above two actions and the issue is still appearing, then you should reset your smart hub. Here are the steps to do this:
On your Remote, click on the Home button.
Go to the setting option by using the navigation feature.
Click on settings, select the Support option, and click on it.
Now, click on Device Care and then go to Device Diagnosis. 
Now, look for the option- Reset Smart Hub and click on it.
You will have to enter the pin.
Enter the default PIN (0000) here and press the OK button.
That's it. Hope this guide will help you to fix this issue. Tell us which one method helped you to resolve the Samsung TV Error Code 107. If still, you are getting this error then you can contact the support team of Samsung Smart TV.
Thanks…
Related:

Samsung TV Error code 0-1 or 7-1

How to Fix Samsung tv error code 001 or Error_exe_001
Frequently Asked Questions
How do I get rid of error 107 on My Samsung TV?
To get rid of this error code, you just have to try to check your internet connection and see if it is stable or not, update your Samsung TV firmware, and if nothing helps, reset your TV settings.
Why is my Samsung TV not connecting to the Internet?
To fix this problem, just unplug your router from the power sources and wait for 30 seconds at least. Now, re-plug all the cables and wires and try connecting your TV again.
What is error code 106 on Samsung TV?
Error code 106 on Samsung TV is also a connectivity error that may arise due to unstable internet or outdated firmware. To fix this, check your internet connection, and try to update your TV firmware to its newest one.