People watch TV to relieve their daily stress and also update to get better features and functions or download some new applications to add more entertainment. But sometimes, they have to face errors, which can bother them a lot. If you are a Samsung TV user and you are getting Samsung TV error code 012 when you are going to update or install a new application on your TV, then you are on the right webpage.
Tech Tips Now is dedicated to delivering the best possible solutions to their readers and in this guide, we have tried to elaborate all about Error Code 012 on Samsung Smart TV.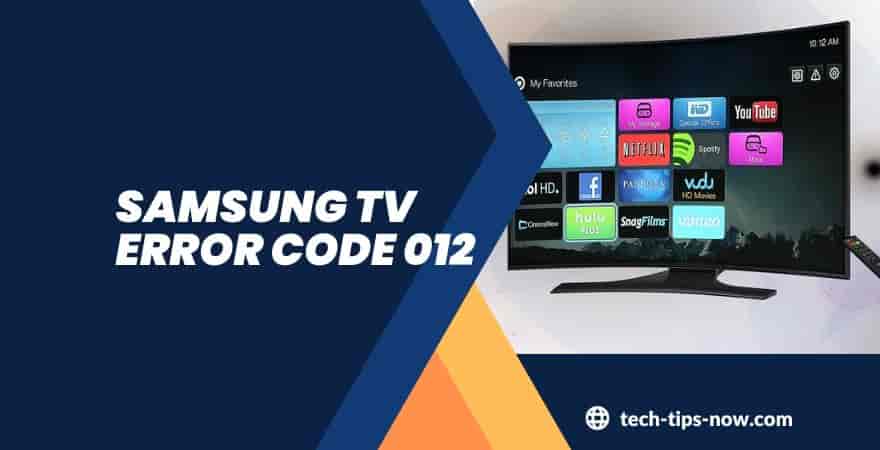 What is Samsung TV Error Code 012 and when it appears?
Samsung TV Error Code 012 represents that your TV has a connectivity problem. In other words, this error code may appear when you have poor connectivity or some other connectivity problems. This error code can appear when users try to run, install, and update any application on their Samsung TV.
Usually, this error code seems like, there is a problem with your smart hub as it is preventing updating or installing an application. But, this is not related to Smart Hub, as we discussed above, this error code is related to the network issue.
How you will fix Error Code 012 on Samsung Smart TV?
If you want to fix this error code, you will have to know all possible causes of internet connection issues as this error code is caused by this. Here we have mentioned some best possible reasons behind this error code and will explain them one by one in detail.
To fix Samsung TV Error Code 012 you should try these actions first:
Power off of your TV as well as your router for some time and then restart them.
Check your Internet speed.
Check internet speed is good or not on your phone.
If possible, try to connect your TV to another network.
Keep your Router and TV armpit to each other.
If these workarounds fail to fix the issue means there is an issue with your TV and it can be with settings, software, and baseband. What you should do now?
Uninstall and Reinstall a buggy application
Sometimes, this error code appears on a single application or program that you want to run. In this case, you should uninstall that application and reinstall it again. Here is how you can do it:
From here, choose the particular application which causing the issue.
Now, hold on to the Tools button from the remote until the menu opens.
From here you can directly select the Reinstall option by clicking on it, you do not need to uninstall it first and then install it again. 
Change the DNS Settings of your Samsung Smart TV to fix Error Code 012
Maybe this error code is from the Domain name server provider. So, you should change the DNS settings to fix this error code. 
Go to your TV remote and press the Menu button.
Now, on the TV screen, select the Network option from the left side of the screen.
Select Network Status from the right side of the screen under the Network Section. 
Next, select the IP settings and then the DNS settings from here.
Select the "Enter Manually" option from here and input your DNS address here.
If you don't know the right IP address, you can simply enter a Google Public IP address i.e. (8.8.8.8 or 8.8.4.4).
A popup can appear to accept the changes. Click on Yes to accept the changes.
Now, restart your TV and check if the issue is gone.
Reset Smart Hub
If the above methods fail to fix the problem, then you can try to reset the smart hub.
On your Samsung Smart TV and Sign in to your account.
Now, go to your remote and click on the Smart Hub button.
Now, press the D button on your remote, which will open the setting.
Next, from the setting menu, select the Reset option then hit the enter button on the remote.
Now, you will be asked to enter the password. Enter a default (0000) password and wait till the process is complete. 
After compilation, a notification popup will open with the message- 'Reset Complete'. Now, press the OK button.
Now, check if the Samsung Smart TV Error Code 012 is gone or not. 
After this, the error should be resolved, but in case, if this is still, then you can contact support without any hesitation. 
Hope this guide will help you to fix your issue. Which method helped you, if you will comment in the comment section, then it will be an appreciation for us. Thanks…
Related:

Know-How to Fix Samsung TV Error Code 116

How to Fix Samsung TV Error Code 189

Samsung TV Error code 0-1 or 7-1

How to Fix Samsung tv error code 001 or Error_exe_001