MS Teams login errors always kill your time, as they appear at the starting of the process to attend an online webinar or call. Today, we are here to discuss Microsoft Teams Error 2:211 for the  MAC users who are facing this on their screens. 
"Microsoft Teams Error 2:211 is especially appearing on Mac user's screens and preventing them to log in to their MS Teams Account. Users can easily fix this error by clearing the application cache or by deleting the Teams Folder. Additionally, disabling antivirus software may also help."
Fix: Microsoft Teams Error 2:211 on Mac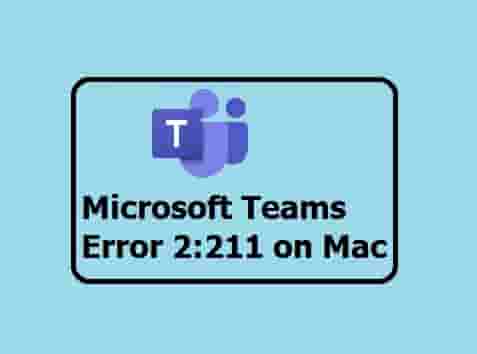 Disable Antivirus software on MAC
Antivirus software on your system may cause conflict with MS Teams, so if you have any, you should disable it for your ease. Don't worry if you don't know how you will do this, you can follow our complete guide link to do this.
Follow this guide- How to Disable Antivirus Software on MAC or iPhone.
Clear the Cache
If you are in a hurry, you can log in using the web client, as this error code is only affecting the desktop app. Go to  teams.microsoft.com and fill in your login credentials and try to log in. This way, you can save your time on doing other things to fix Microsoft Teams Error 2:211.
If you want to fix this issue for your desktop app then, proceed to clear the app cache from your system.
Close the Application (MS Teams) completely.
Access Finder and click on the Go menu.
Now, click on the Go Folder.
Put this command in the search bar- ~/Library/Caches, and hit the enter button.
Now, look for the folder- com.microsoft.teams and delete it.
Navigate- ~/Library/Application Support/Microsoft/Teams and delete the subfolders present in it.
Subfolder list will be: 
Application Cache/Cache
blob_storage
Cache
databases
GPUCache
IndexedDB
Local Storage
tmp
Now, restart the system and check if the problem got vanished.
Check for the Application Update
You need to check for an application update too. Just click on your profile picture and then select the check for update option. Now, if a newer version is available, update it.
Use a Different Office 365 Account
It might happen that your current Microsoft office 365 account has been corrupted. The best way to check is to use a different account and check if Microsoft Teams Error 2:211 is not appearing. If yes, then this might be possible to create a new office 365 account.
If nothing helps, as always, uninstall and reinstall might work. After doing this, the issue is as same, contact MS Teams Support.
Other MS Teams Errors:

Microsoft Teams Error Code 80090030

Microsoft Teams Error 80070003

Oh Dear! Your Call Has Dropped

Microsoft Teams Error Code 80080300

Microsoft Teams Error Code 80090016

Together Mode Not Available in Microsoft Teams
Disclaimer: All the above information is provided in good faith and the purpose is informational only. However, we make no representation or warranty of any kind, express or implied, regarding the accuracy, adequacy, validity, reliability, availability, or completeness of any information on the Site.