Do justice with your MS Teams software and fix Microsoft Teams Error Code 80080300. Many users are bothered by this sign-in error code. Users are unable to attend an online video call or conference as this error is preventing them to sign in to their accounts.
However, sign-in errors on Microsoft Teams are common, and luckily they can be fixed easily. If an error is preventing you from sign in to your account, then this guide will not take too much time to fix it.
In this guide, we are not going to discuss all the sign-in errors, we will explain one, which is 80080300.
Fix: Microsoft Teams Error Code 80080300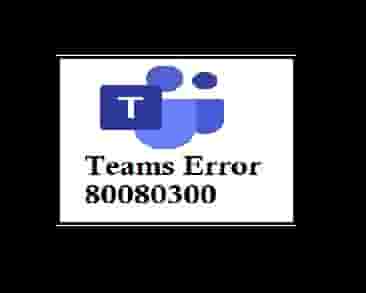 Microsoft Teams Error Code 80080300 is a sign-in error that indicates an issue connecting the software with the server. Additionally, this error code may also indicate a compatibility issue. Running the compatibility troubleshooter is the best method to fix this error code. In addition, you can clear the application cache as corrupted cache plays the main role in getting many sign-in errors on MS Teams.
The steps of the instant solution are explained below, and if you are not a technical person, you can follow these steps.
Clear the Application Cache
Steps to clear the MS Teams cache are very simple to do, here is all you have to do:
First, locate the folder by following the path mentioned below:
C:\Users\UserName\AppData\Roaming\Microsoft\Teams.
All the folders will appear here (MS Teams).
Next, you have to delete these files and folders. That's it.
The reason behind clearing the cache: Most of the MSTeam's sign-in errors take place due to corrupted cache files. So in this situation, this is quite good to clear these cache files and keep safe your application from an error.
Run Compatibility Troubleshooter
Running Compatibility Troubleshooter is an excellent method to fix Microsoft Teams Error Code 80080300. Many users have resolved this error by doing this. 
Sign out from the MS teams( if possible), or close the app completely.
Now, Right-click on the Teams icon and select properties from the list.
Next, select Compatibility Tab from the appeared window.
Now, select Run compatibility troubleshooter, and wait until it is completed.
Try to launch the Teams app again and check if the error is appearing still.
Note: If it doesn't help in the first attempt, then try again. 
Check For An Update
Go to the Update & Security option.
Now, click on Check for updates button to see the updates that are currently available
Other Related Errors on MS Teams:

Microsoft Teams Error Code 80090016

Microsoft Teams Error Code 80070520

Fix Microsoft Teams Error 0xcaa80000