Have you just encountered the Kayo error code 2999? Are you looking for solutions? Continue reading this guide.
Kayo is an Australian over-the-top video streaming subscription service owned by Streamotion. 
The platform allows a pay-per-view facility for the people. Pay and watch the upcoming game events. 
Supports almost all types of devices such as Mobile & Tablets, TVs, Web, PlayStation, Apple TV, Android TV, Telstra TV, etc.
In this guide, we are going to discuss error code 2999 which is being reported by many users. We'll tell you why this error code appears and how to fix it.
Why does the KAYO error code 2999 appear?
Officially, it is said that the error code can be the result of an issue with your device, browser, or VPN. It is suggested to clear the cache, use a compatible device & browser, and disable your VPN.
The error 2999 can be caused by:
Unstable, slow, or no internet – Your internet may be slow, unstable, or disconnected.
Incompatible device or browser – Your device or browser may be incompatible with KAYO.
Corrupt or missing cache files – The Kayo Sports cache files may be missing or corrupt.
A VPN –  Your VPN may have caused problems.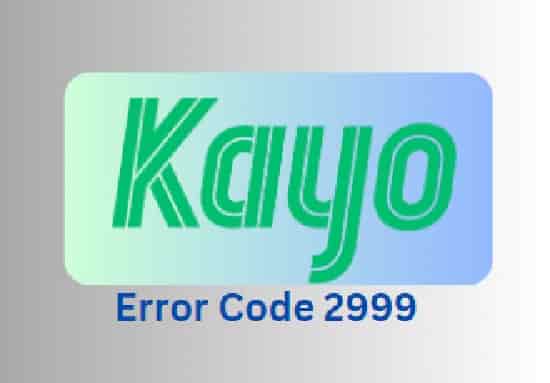 How to Fix "Error Code 2999" in KAYO?
To fix Kayo error 2999, check if your device is connected to the internet or if the connection is interrupted due to a slow or unstable internet signal. 
Also, check if your device and browser are compatible with Kayo or not. Clear cache and disable VPN.
#1. Reboot your Device
Firstly, reboot your device if you encounter an error. Sometimes, this simple task solves many big issues.
If this doesn't solve the problem, move to the next fix.
#2. Check Internet
The first thing to try is your connection. See if the device is connected to your internet or has been disconnected due to slow or unstable internet.
#3. Check Compatibility
Kayo supports almost all types of devices like Mobile & Tablet, TV, Web, Playstation, Apple TV, Android TV, Telstra TV, etc. but specific versions. 
You can visit here to know if your device is on the list of supported devices or if you would need to upgrade or update its version.
#4. Clear Cache
Since Kayo supports almost all popular devices such as Mobile & Tablet, TV, Web, Playstation, Apple TV, Android TV, Telstra TV, etc, clear cache according to your device.
#5. Disable VPN
It is officially mentioned that VPN software may cause the error 2999, so disable it if you have one. 
After disabling the VPN, reset your device and launch Kayo.
#6. Other Solutions
1- Restart your Roueter.
2- Power cyst your device.
3- Update your device's software.
4- Uninstall and Reinstall Kayo app.