I opened the EndCLoting website to see what has come new, I could purchase- if it suited my requirements, but the website opened for a few seconds and then, I got a screen with "Sorry You have been blocked." 
I had no idea what happened to me, and why I am getting this message. Then, I had seen texts that were written below the big text "Sorry You have been blocked." These texts were something like this- "Something Happened that made us think you're a bot…"
I refreshed the page again and again but, no help. I closed the EndClothing and move on to other websites like this. After a few hours, after spending on the many other websites and doing some personal stuff, I came back and reopened the EndClothing website, and look what happened this time, I again got the same thing.
I was a little bit frustrated, and I started searching the Internet about why I see this even when I am a human, not a bot.
I saw there were not enough things that could satisfy me and resolve this issue for me. On the EndClothing official website, I have found some stuff that was mentioned but, not in detail.
Here, I get an overview- that is why EndClothing was Thinking, I'm a bot. Let's discuss those things in detail.
Why EndClothing Thinks You are a Bot?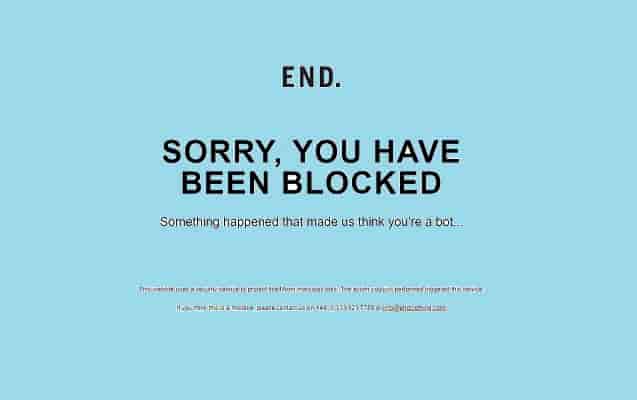 If you are getting texts "Something happened that made us think you're a bot…" or you have a question about why EndClothing Thinks I'm a Bot then, these could be the causes:
You're scrolling the EndClothing website very fast or with a super-human speed.
JavaScript in your web browser has been disabled or blocked.
A third-party browser plugin, such as Ghostery, NoScript, or AdBocker is installed. These plugins can prevent JavaScript from running.
You are using a VPN or you are opening the website from a location where its services are not available.
In my case, I was using the Ad Blocker extension, which was causing the issue. After disabling and uninstalling the extension, the website was running fine, and I completed a purchase also. 🙃🙂
Let's see in detail, how you can also fix this issue.
EndClothing Thinks I'm a Bot: How to Fix?
If you are blocked from EndClothing, and the website thinks- you are a bot then, these could be the simple steps- that can fix this issue for you.
Enable JavaScript in Your Browser
If you have disabled the javascript in your browser settings, then you will see the error message- "Something Happened that made us think you're a bot…"
This is one of the most possible causes when a user may see this error message from EndClothing. And the platform thinks that the user is a Bot, not a human. 
So, enable javascript in your browser and the issue will be resolved.
For Chrome Users:
Open Chrome on your PC (Laptop or Computer).
Click on the three dots at the top right corner and then click on Settings.
Now, Go to the Security and Privacy.
Here, click on Site settings.
Select Sites can use Javascript.
To add EndClothing manually, click on Add button next to the text "Allowed to use Javascript."
Disable AdBlocker
Adblocker blocks javascript that may create an issue with the EndClothing website and you may get the error message 'Something Happened that made us think you're a bot…'. 
So, disable adblocker and go to the manage extensions and disable and remove it from your browser.
Don't Scroll Website Too Fast
This is ridiculous but, yes, if you are scrolling the stuff too fast, EndClothing also detects it as abnormal behavior and blocks you with the message 'Something Happened that made us think you're a bot…'
So, do go fast on the site, and you will not get the error message.
Don't Use VPN
If you use a VPN or proxy server, the EndClothing system may block you. To prevent this thing, disable VPN or proxy server.
Sometimes, VPN may point out a location that is not in the service region of EndClothing. So disabling it is a good thing to prevent the error message. 
Final Words
I fixed this issue by disabling the ad blocker that I was using. 
However, I have mentioned some other steps too, in detail, tell me what helped you.
You are not alone, many are facing issues with EndClothing. I hope you are not getting the error message. 😊