Zoom provides online meetings, webinars, and collaboration with your office guy, family, or friends. It's not neglectable that this platform has many errors in it that users face- during a running meeting, installation, or when they just try to join a meeting or webinar. Today, we will discuss one of Zoom's errors which is error code 10002. This error code generally appears when users try to install an update for the platform.
So, let's see what this error code indicates and what simple ways are mentioned in this guide that will help you to fix it.
What does Zoom Error Code 10002 indicate?
Zoom Error Code 10002 pops up and says "Unable to install Updates", which is straightly an indication of an issue in the installation process. According to Zoom's official statement, error code 10002 appears when the source link of the Zoom installer package is broken or your antivirus software blocks some downloaded files.
So, now it is known what the error code 10002 means. So let's talk about its fixes.
How to fix Zoom Error Code 10002?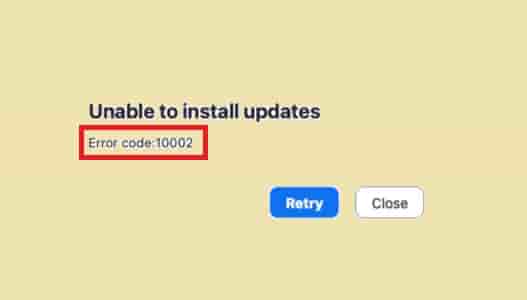 Check Connectivity
While you are installing an update, make sure your device is connected to speedy internet, and the Internet is not unstable.
So, if you are facing an installation or updation error, the first step that should be taken is to check your internet connection.
If your internet is well and good then, move forward for the next check.
Disable Antivirus Software
During installing any update make sure your Antivirus Software is not Turned ON. As Zoom officially has mentioned that the error code 1002 could be a result of antivirus software as this can block some download files. So, disable your antivirus software during the installing an update for Zoom.
Read: 
How to Disable Antivirus Software on Windows.
How to Disable Antivirus Software on Mac.
After disabling the Antivirus software, try updating the Zoom and see if the issue has been gone or not.
Uninstall and Reinstall Zoom
If you have disabled your antivirus and tried to install the update but still, are facing the error code 10002, try uninstalling and reinstalling Zoom.
First force closes the app before uninstalling it from your system:
Type- taskmgr and press the OK button or Enter button on your Keyboard. 
Find Zoom from the running program list and select and click on End task.
Now, follow the next following steps to uninstall Zoom:
Click on the category where you can get all the installed programs. (Programm & Softwares)
Search for Zoom, and click on it, next click on Uninstall.
Confirm your choice and wait until the program is uninstalled completely.
Now, download Zoom from its official website and install it again.
The error code 10002 should be gone now.
Read Alos:
How to change the product key on Windows 10?
How to increase the CPU fan speed in Windows 10?
Contact Support
If all the steps fail to fix the Zoom error 10002, don't hesitate to contact Zoom support. Open C:/Users/Username/AppData/Roaming/Zoom, find the installer.txt file, copy it, visit the Zoom contact page and submit a new request.
Conclusion
To fix Zoom error 10002, disable antivirus software, disable VPN or  Proxy, uninstall then reinstall Zoom's fresh copy from Zoom's official website. This will fix the error code and install the latest copy of the Zoom application.
If this doesn't help, contact Zoom support.