Roblox keep crashing on Xbox One? There can be several reasons for this. But, leave the worrying and try some simple task and hopefully, this issue will resolve from your screen. 
The listed actions should be performed in sequence so that the cause can be found. Let's start.
Fix: Roblox keep crashing on Xbox One
As we have told above, there can be numerous causes when an app starts crashing. In the case of Roblox, when the users of the XboxOne X series face crashing issues, the following activities should be performed:
Do a simple retry
As a first step, you should try to restart the Roblox simply. Sometimes, some temporary glitches may stop the app and stop performing seemingly.  So retry to open the Roblox on your Xbox.
Quit the Roblox and retry
Press the Xbox button on your controller.
Select Roblox from the list that appeared.
Now press Menu on the controller (A button with three horizontal lines), and access the settings.
Next,  select the Quit option that will stop the game from running.
Again, try to restart the game and see if it is still crashing.
Clear Xbox One cache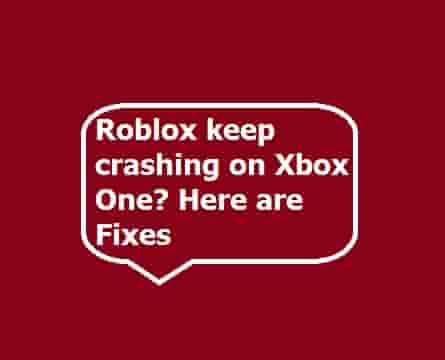 Does it possible to clear the cache on Xbox One? Yes. You can clear the cache on your Xbox device. Let's see how?
Press the Xbox button on your console for approximately 10 seconds. This will turn the console off.
Unplug the device from all the power cords, and wait for 2 minutes.
After this, replug all the cables and cords
Now, restart the Roblox.
Update Xbox Software as well as Roblox
Outdated versions may also cause a crashing issue. So, try to update your Xbox and Roblox software. Sometimes, the updating process of Roblox may hinder, in this situation our guide on this will help you. Read this guide for better assistance.
How to Update Roblox on Mac

Roblox was not able to update on Windows 10
Roblox was not able to update on Mac
Use another Profile
Check if the problem is with the Roblox profile which is linked to your Xbox. See all the connected devices to your Roblox account. Try adding another Roblox profile and retry.
Clear the game Files
Some saved game files may get corrupted, so clearing these files should be a good idea to prevent crashing the Roblox on your Xbox device.
Again, press the Xbox button.
Select My games & apps and select the 'see all' option.
Now, select Roblox and press the menu button and then, select the Manage game and add-ons option.
Next, select saved data and select the Delete all option. This will remove the locally saved data.
Now, check if the crashing issue has been gone or not.
Uninstall and Reinstall Roblox
Nothing Helped? Don't worry, uninstalling and reinstalling should. Try to uninstall the Roblox and download and install a fresh copy of the Roblox client. This time the crashing issue should be resolved completely.
Don't forget to read our other Related Guides:
Fix Roblox Error Code 277

Roblox Error Code 279

Roblox Error Code 610

How to Get Unbanned From Roblox

To read our complete Roblox guides click on- Roblox troubleshooting Guides