Is the Nike app not working? Are you unable to make your purchase complete? Let's solve the issue and get the Nike App working.
Sneakers or sportswear, Nike is one of the best brands preferred by millions of people. People love shopping online these days and apps are used much more compared to websites. So, to make things easy, Nike has its apps. 
But, many users face issues with the app. Let's see the common problems that a user may face with the Nike App.
Common issues with Nike App
Login Issue: If you are unable to log in to the Nike App; this could be due to several reasons. An internet, server issues, and wrong login credentials could be the most common reasons.
Black Screen: A black screen usually appears when you just open the app. This could happen due to a temporary glitch, corrupted cache, a third-party app that interferes with the Nike App, or compatibility issues.
Screen Stuck on Infinite Circle: This usually happens when your internet signal is too weak or unstable. Additionally, an issue in the Nike app may also cause this problem.
Getting an Error Code: An Error code could result from your fault or the Nike ends.
An issue with Promo Code: If you are facing issues with the promotional codes, read- how to fix the Nike promo code not working.
An issue with Checkout: Checkout and payment is the last step to complete any purchase. But, you can face issues in the checkout process.
Why is the Nike App not Working?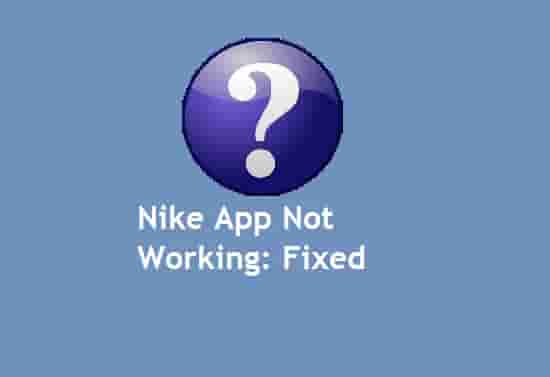 If Nike App is not working, then there could be these issues- you don't have stable internet, the app cache has been corrupted, you are using an outdated version of the Nike App, a server-side issue is going on, or the app is not compatible with your device. 
However, a third-party app or the wrong date & time settings can also cause issues.
Fix: "Nike App Not Working."
Check for Stable Connection
A common problem could be an unstable internet connection when the Nike app may stop working. To perform the app, stable internet is a must. So, if you are facing an issue with the Nike app, there could be an issue with your internet. Check and resolve that and ensure that the internet is good.
To solve Nike issues on your phone, turn ON/OFF flight mode. This will give a soft reset to your internet and will also fix the issues with the Nike app. Alternatively, you can switch to mobile data if you are on a wifi connection and if you are on mobile data, switch to Wi-Fi.
Read Also: How to fix Nike SNKRS App Not Working?
Install the Latest Update for the App
If you are using an older version of the Nike app, this could be the culprit that can prevent the app from working properly. So, check and install the latest update for the application and the issue will be fixed.
Clear App Cache
In most cases, the corrupted cache could be a culprit when the Nike app may stop working. So, clearing the cache could solve the issues with the Nike app.
To fix issues with the Nike app on your android device- Go to the settings-> click on Apps-> tap on manage apps-> search for the Nike app and click on it-> click on clear data-> select clear all data and confirm your choice, then choose clear cache, and again verify your choice. This will clear cache & app data that will solve the issues with the Nike app.
iPhone users- Go to iPhone settings -> General -> Click on Nike App -> Click on iPhone Storage -> Click on Offload App button -> Again Reinstall Nike app.
Read Also: Fix Nike Error Code 1496289380.
Check Server Status
If Nike servers are facing any issues, the app may stop working. So, check if any downtime for maintenance work is in progress with Nike or not. If yes, wait till Nike developers fix it.
Uninstall and Reinstall
If the app is still facing issues and not operating properly then, reinstalling it should solve the problems. First, clear the app cache and then delete the Nike app, after that, reinstall the app from the app store or play store. Launch the Nike App and see if this has started working or not.
Fix: "Nike Website Not Working."
Corrupted cache & cookies data stored on your browser is the most possible cause- when the Nike website stops working. This could easily fix by clearing the cache & cookies data. Additionally, server issues, poor internet connection, or a VPN could be culprits.
Disable VPN while using Nike Website.
Closing Texts…
We have included the easiest ways that can solve issues with the Nike app. We hope you have found this article helpful.
Has your issue been resolved or still facing it? Please tell us. 
Nike has a separate app for Sneakers called SNKRS.