People buy smart TVs so that they can install their favorite applications on them and enjoy watching their favorite shows, movies, and other things. Smart hub or sometimes app store allows users to download and install the applications that users want to install. But many times, they get an error code when they start installing an application from the AppStore. Some users are getting Samsung TV Error Code 118 on their TV screens when they are going to install any app from the AppStore.
Here on this webpage, we have tried to explain all necessary information related to this error code. Let's start with what this error code indicates?
What Samsung TV Error Code 118 Indicates?
Samsung TV Error Code 118 indicates that the Samsung TV Server is unable to connect with the smart hub due to the network connection issue. This error code appears when the users try to download apps on their smart TV.  
Some solutions are given in this guide, by applying them, you can fix this error code. So, let's go to the solutions.
How to Fix Samsung TV Error Code 118
Here are the workarounds, you should try them (in short as well as Explained) to fix this error code.
Check your Internet Connections.
Restart the TV and Router.
Check your Internet Connections
Bad Internet connection may cause Samsung TV Error Code 118  as this will prevent the smart hub to connect to the Samsung TV server and as result, you can get the error code on your screen. So, first of all, you should check your internet speed and if you found an issue with this then, you should contact your service provider.
You can follow the above link to check your internet speed.
Note: You should also try to connect your TV to another internet option and check if the error code is still appearing or not. Sometimes, changing the internet option can fix this error code.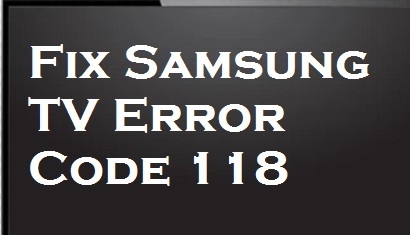 Reset the Smart Hub to Fix Samsung TV Error Code 118
If the speed is proper and still you are getting the error code then, you should try to reset the Smart Hub in your Samsung smart tv.
ON your TV and press the Smart Hub button on the Remote.
Open settings by pressing the D button.
Next, select the reset option and click on Enter button.
Now, a popup will appear which will ask you to enter the password.
Enter your password (0000- by default).
As you enter this password and press the OK button, the smart hub will automatically reset and will show you a message of completion of the process.
Restart the TV and Router 
Some users found that they have done just a simple restart TV, and their routers and the Samsung TV Error Code 118 has vanished from their screens. You can also do this to resolve the issue. Just unplug your TV and the router and leave it for 30 to 40 seconds and then replug and Restart them.
If the issue is still, then you can contact your regional support. Make sure you have chosen your regional support as Samsung provides only regional support if you choose other regions then you have to come back to choose yours.
You can follow this link to select your regional support:
https://www.samsung.com/visitcountry
Related Error Codes And Solutions:

Samsung TV Error Code 189

How to fix Samsung TV error Code 102

Samsung TV Error Code 107

Samsung TV Error Code 012