Roblox allows users to play any type of user-generated content or games using the Roblox Xbox One app. Some users may encounter Roblox Error Code 116 on their Xbox One's screens. This guide is gonna tell you what this error code indicates and how you can easily fix it.
Players don't want to get any error code during the gameplay, but somehow, if this error is triggered on your screen, let's fix it now.
What does Roblox Error Code 116 indicate on Xbox One?
Roblox Error Code 116 on Xbox One indicates that the game does not has access to both the user-created content and the online multiplayer games. Mostly, Roblox games require this access to perform smoothly. Generally, this error code appears when users use a family account, as a family account has limited permissions.
What is a Parent account on Roblox?
Roblox announced a parent account to monitor their children's activities like, why their child is getting banned and what things their children are buying. Parents can also make changes in the chat settings.
Also Read: How to Get Unbanned from Roblox?
What to do to Fix Roblox Error Code 116 on Xbox One?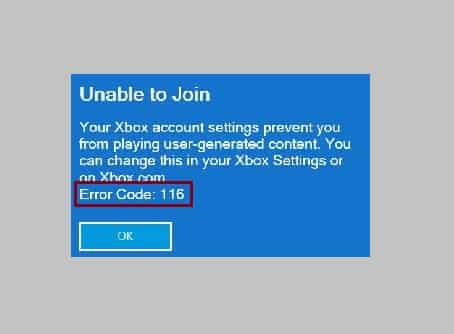 By doing some settings and adjustments, users may provide the access to games in the Roblox application. After applying these settings, the game will get access to both online multiplayer games and the user-created content. In this way, the error code 116 will be fixed.
Press the Xbox Home button that will open the side menu.
Now, select the setting icon from the menu and press the "A" button.
Next, select all settings and again press the "A" button.
On the left-hand side of the menu, you will see the account option, select it and go to the privacy & online safety option.
Now, again, press the "A" button and select Xbox Live Privacy from here.
Next, scroll down to the View details & customize option and again press the "A" button.
Enter the Game Content menu by scrolling down, and select the left thumb that will select "You can see and share content."
Now, you have to change the menu from Block to EveryBody.
Next, close the Roblox application and relaunch it. The error should be gone now.
Other Roblox's Errors and their Fixes

Roblox Error Code 110

Roblox Error Code 282

Fix Roblox Error Code 914

How to Fix Roblox Error Code 918

Best methods to check Roblox Server Status