On the screen of some Roblox users, Roblox Error Code 918 is popping up continuously. Some of them are not able to fix it, or they didn't found a proper solution yet to resolve this issue. From now on, these users can fix this error code using this guide.
Roblox Error Code 918: Description
Roblox Error Code 918 indicates a sign-in error that typically appears when users enter a wrong password. Generally, this happens when users forget their original password and enter the wrong one to sign in to their Roblox account.
How to resolve Roblox Error Code 918?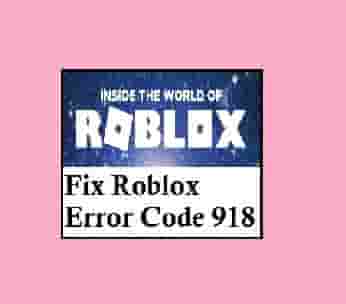 Well, fixing this error code is very easy as from the description, it is clear that this is due to entering a wrong password. So you have two options to fix this:
Cross-check your password once.
Create a new password (If forgotten previous).
Why Cross-checking your password is Required?
Sometimes, mistakenly, you can enter the wrong password during the sign-in. So you should cross-verify your password once before proceeding to sign in. 
If you are copying and pasting your password from anywhere then, paste it on notepad first and then proceed with this password. Sometimes, space can cause an issue. 
Still, the issue is the same then, you should proceed forward to Reset or create a new password. If you don't know how? Then, follow the steps given below.
Also Read: How to Get Unbanned From Roblox
How to Create a new password on Roblox?
A user needs to create or reset Roblox's password when he/she forgets it. So if you too, forget your password, that is clear if you are getting Roblox Error Code 918 on your screen then, here some steps are given to reset and create a new one.
Use Email ID
Go to Roblox's login page.
Click on Forgot your username/password? Link.
Now, click on Submit button after entering your Email address.
Note: Make sure you have entered exactly the email address that you have entered on your account.
A verification link will come to your inbox.
Click on this link and you will be transferred to a new page with a password reset option.
Note: If you have only one account then this will reflect you on a page where you will be asked to enter a new password, but, if you have more than one account then, this link will reflect you on a page with all your accounts, and from here, you have to select one for which you want to reset the password.
Enter your desired new password here and click on submit. Now, try to log in with this password.
Also Fix: Roblox Error Code 103 
Do you want to update Roblox on your MAC but, you are getting an Error message- Roblox was not able to update on Mac, fix it now.
Use Phone Number
Open the login page and click on Forgot your username/password?
Instead of selecting Email ID select Use phone number to reset password option.
Now, enter your phone number with your country code and click on Submit button.
A verification code of 6 digits will send to the entered phone number, now enter this code in the box and click on Verify button.
Now, after code verification, enter your new password and click on submit button.
Now, check if the Roblox error code 918 has been resolved or not by sign in again to your account with the new password.

If still, you have trouble signing in then, contact Roblox Support without wasting more time.