Getting a satisfactory solution to any error is very rare, but in this guide, we have tried to provide the most satisfactory solution to the Roblox Error Code 282. Getting this error code on the screen usually prevents a user to join any game on Roblox. It is not good to see an error while you're trying to play any game. Let's understand all about this error code, including the solutions.
What is Roblox Error Code 282?
Roblox Error Code 282 basically indicates a hindrance in connecting your selected game to the Roblox server. Generally, this happens if the Roblox's server has an issue, a proxy or VPN server is interfering, or if the DNS having an issue. Disabling proxy or VPN and flushing your DNS cache can fix this issue instantly. In addition, checking the Roblox server status may also help, and if it is down then, you have to wait until it is up.
Methods To Fix Roblox Error Code 282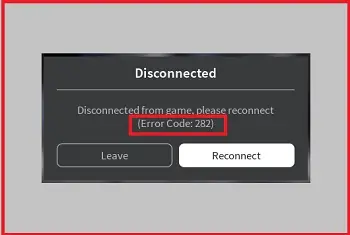 Check Roblox Server's Status
Sometimes, this is possible that the Roblox server is having an issue like it can be down or many other issues. So, if you are getting error code 282, the first thing you should do is to check the server status o Roblox. If it is down, you can't do anything except wait until it is up. This is not your fault, this issue is from Roblox, and they will resolve it as soon as possible.
Flush the DNS Cache
Flushing the DNS cache helped many users in fixing the Roblox Error Code 282, and they admitted it as the best possible solution. So, if you want to fix this error code, you should flush the DNS cache, and the steps are given below.
Type cmd in the search area and click on the OK button or hit the enter button on your keyboard. This will open the command prompt window.
Now, type ipconfig/flushdns in the window that will flush all the local cache files.
After completion of the process, restart the PC and start playing on Roblox.
Disable Proxy and uninstall VPN Client
If you are using any Proxy or VPN service then, disable them as they can create an interference among the game files. To run a game all files are needed to run properly, so this may help you to fix the error code.
You can get help from the below-mentioned guide to do this.
How to Disable Proxy Server on your computer or PC?
Disable Antivirus Software for Temporarily
Disabling your antivirus software releases blocked files of the game as it can quarantine some of them. This will help to perform the game properly. So, if you are using any, you should disable it temporarily and you can enable it too in the future when you are needed.
Get help on this with our guide on – How to Disable Antivirus software if you are using it on Windows 10.