Roblox has many errors, and Roblox Error Code 106 is one of them. Users are getting this error code on their Xbox one application. If you are facing this short-time error, you can resolve it on your own with the help of this guide.
Xbox one is a video game console developed by the big named company Microsoft and this makes a better gaming experience. Xbox one also has many bugs and errors, but, here, we will talk about the Roblox error, and will request you to keep your eyes and mind open to fix this error code.
What does Roblox Error Code 106 on Xbox one indicate?
Getting Roblox Error Code 106 on Xbox one app indicates changes in the Xbox app usability policy. According to this policy, now, you can't join a person's or friend's game if that friend is not in your Roblox's friends list as well as Xbox one's friend list. Usually, developers apply some changes to make the app's performance better or due to some other reasons. 
This issue is not a big one so, this can be resolved easily by applying some steps. Below, easy steps are given, by following them you will resolve this error code from your screen.
Check out our guide on Roblox Error Code 279.
Follow these steps to fix Roblox Error Code 106 on Xbox one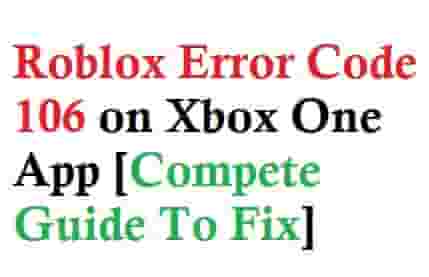 Open Roblox Website and login into it using your login credentials.
Go to the search bar and find your friend's name, whose game you wanted to join.
Now, you have to click on the add a friend icon associated with your friend's account.
Next, you have to ask your friend to accept your invitation by logging into his/her Roblox account.
Now, leave the Roblox website once your friend accepted your invitation.
Come back to your Xbox one console to confirm that the friend to whom you have sent the invitation on your Roblox account is on your Xbox One's friend list or not.
If that friend is not present in the list of your friends on your Xbox one console then, press the Xbox button and select find someone.
Now, find the player tag and click on Add a Friend option.
Go to your Roblox account again, and join your friend's session.
That's it. By doing these steps the Roblox Error Code 106 from your Xbox one console should disappear. Now, enjoy hurdle-free gaming.
Other Roblox Errors:

Roblox error code 901

Roblox Error Code 103

How to Fix Roblox Error Code 277