Many users are reporting an Amazon Prime Error Code 1066 on their devices, and due to this error code, they are unable to access the contents. Now, this is time to resolve this error code. This guide has included some methods, by applying them, you can easily fix this issue.
Amazon Prime Error Code 1066 usually indicates an issue with the bandwidth that is generally caused due to a weak internet connection. However, some corrupted application cache may also cause this error code. 
Mostly, Samsung TV users are reporting this error code but, this can appear on any device. However, whatever your device is, if you are getting this on your screen then, let's begin to fix it.
How to Fix Amazon Prime Error Code 1066?
Some very easy actions are required to fix this error code.
A Simple Restart
A simple restart of your device may do effective work to fix this error code. As many users have resolved this issue by restarting their devices, you can also do this. So, the first action should be this in respect to fixing the error code 1066 on amazon.
Restart the Internet Devices
The error code may cause due to a network connectivity issue, so it's a good task to restart your all Internet device.
Unplug your router from all the wires and cables, and wait for at least 30 seconds, then replug them all, and restart the router or modem.
Clear the Application Cache to fix error code 1066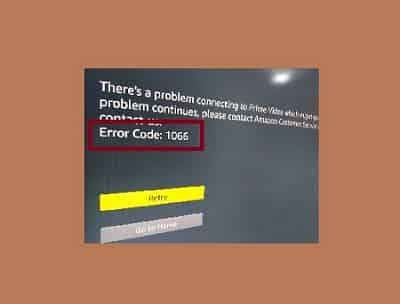 Since corrupted application cache may also cause error code 1066 on Amazon, you should delete these cache files to resolve the issue. 
If you are getting this error code on your Samsung TV as many users are reporting this on it, follow these steps:
Press the Home button on the remote.
Select Apps-> options(Settings).
Now, select amazon prime from the apps list.
Next, select delete, a popup will appear, select delete again from here.
If the above two methods don't work, you can try to uninstall and reinstall the application on other devices too.
Reset The Samsung Smart Hub (For Samsung TV Users)
Resetting the Samsung Smart Hub may help if this error code is appearing on the Samsung TV screen.
Press the Home Button on your Remote.
The home screen will appear in front of you.
Using the Directional pad, navigate and select the Settings option.
Next, Select the Support then Self Diagnosis option.
Now, Select Reset Smart Hub and Enter your PIN when you are asked to do. Now, select the done option.
When reset is completed, select OK. That's it.
Please, tell us which method did help you to fix the Amazon Prime Error Code 1066. If nothing helps, contact Amazon's Support.
Don't forget to Fix:

Amazon Prime Error Code 1044

Amazon Fire Stick Error Code 7136

Amazon Fire Stick Error Code 8056

Fix Amazon Prime Error Code 1061