People are using WhatsApp like it's a part of their daily life, and doing chats, share videos, Audios and a lot of things using this Application. WhatsApp has many features in it, some people know some and some don't. Here in this article, we are going to discuss one of these features of WhatsApp. Many people will not have to know How to export WhatsApp chats through Email, so we have explained some useful tips in this article to do so. 
Before going to these steps, we will put light on this feature and also elaborate on why people use this feature.
What is Export Chat Feature in WhatsApp?
Like many features, WhatsApp provides an Export chat feature to its users too. Using this feature, users can export their chats through other mediums like Email. Exported chats can be sent through Email, and this feature can be very useful in professional work.
WhatsApp is not an application for personal use only but it is also used in professional work. So, the export chat feature is quite good if you are too, a professional. 
How to export WhatsApp chats through Email
If you want to use this feature and don't know How to export WhatsApp chats through Email, then you should follow the below-mentioned steps. At the end of the steps, you will be able to use this feature.
Go to your WhatsApp app and open the chats of that person, which chats you want to export.
Now, at the top right corner of the profile page, you will see three dots, click on these dots.

After this, a list of options will appear, click on the More option.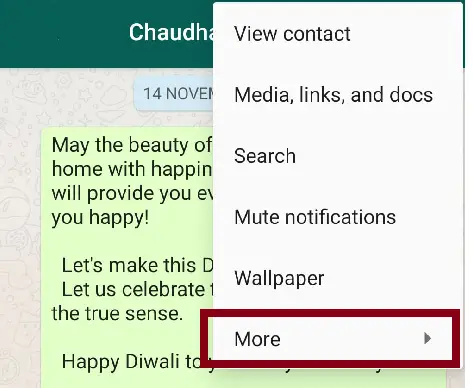 Now, a new list of options will open where you can see the option- Export Chat.
Click on this option. Here you will see two options, one is Without Media and the second one is Include Media. If you want to export only text then you can go with the first options and if you want to export chats including the media files, then you can go with the second option.
Now, after selecting any one option, you will see many options to export including Email. Click on Email or Gmail.
As you click on the Gmail option, it will redirect you to your login Gmail account and convert all chats to the doc file.
Note: Make sure you are login with the mail id from which you want to send the exported chats. If you found a wrong email then, before sending go to your email application if you are using Mobile, and from here switch to that account which you want to use.
Enter the mail id on which you want to send these exported chats and click on the send button.
That's all…
Related Articles:

How To Mute Whatsapp Calls On Android

How to see/check who is online on WhatsApp without going online

Hide chat in WhatsApp on an Android phone

How to check who viewed your WhatsApp profile pic