Many Nike users are facing Nike error code b303e002 when they are trying to make a payment for their selected item on this platform. Nothing can bother you more than getting an error, especially when all the things are completed like you have spent enough time searching for your product. After doing these things when you are just on to make a payment and get an error, you will get frustrated.
Exactly this thing is happening with a lot of people on the Nike. People are getting unable to make payments for their items using their Nike accounts. Let's understand what is happening and what the error code b303e002 is? 
Nike error code b303e002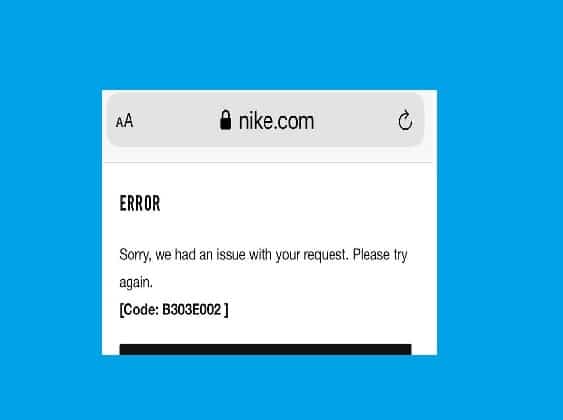 The error code b303e002 typically means that the payment process on Nike has been interrupted. The exact message that users may face is- "Sorry, we had an issue with your request. Please try again. [Code: B303E002]". 
This error code could be a result of corrupted cache files, a payment method that you are using, or some problem with the device that you're using to make a payment.
So, the main question is- How do I fix this error code if this is appearing on my screen? Well, let's see the steps that you can take to resolve this Nike error code.
How to Fix Nike error code b303e002?
There are some simple steps that you can do as a victim to fix this error code. Let's discuss these steps in detail and resolve the issue from your Nike account.
Verify Payment Settings
As the error code b303e002 is affiliated with the payment process, you should verify the payment method that you're using. 
There is much possibility that you have selected an incorrect payment method that Nike does not accept. 
Additionally, check the default payment detail that you have been added to your account to make a payment.
If possible, try adding a new payment method and details and make the payment again and see if this time the error is not happening.
Clear Cache File and Cookies data
As a main culprit of the error code b303e002  on Nike, corrupted cache and cookies data can be admitted. So, to fix the error code from your screen, clearing the cache files and cookies data could be the main possible solution.
Just click on three dots (top right corner).
Hover the mouse cursor on More Tools and then click on "Clear Browsing Data".
From the advanced section- select All Time.
Tick the option that you want to delete including the Cache and Cookies data.
Start making payment now and see if the error has been gone or is still there.
Change The Device
The issue can be with your device too. So, just change the device and check if this time the error is not appearing. If you are facing an issue on your PC try to make payment using your mobile and vice versa.
Final Words 
As a final thought or conclusion, the error code b303e002 is an issue with the payment processing. That could easily resolve by following the steps mentioned in this guide. But, if the issue is still as it is, you may contact Nike Support.
Official Suport Website- https://www.nike.com/us/en/help.