Lennox error code 411 may trigger sometimes and put you in trouble. This error code is common and wastes your time. When it appears on the screen, this puts a limit on your comfort. That's why troubleshooting this error becomes necessary for you. This guide can help you to get rid of this error code, as very easy steps in very easy language have been put in this guide. So, let's start the process.
What is Lennox error code 411?
Lennox error code 411 is counted as a critical error that generally indicates that the low-pressure switch has been locked. This error code may arise due to restricted airflow, improper refrigerant charge in the system, incorrect operation of the metering device, or incorrect installation of the metering device. Additionally, this may also appear when an improper sensor location or connection happens.
How to Fix Error Code 411 on Lennox?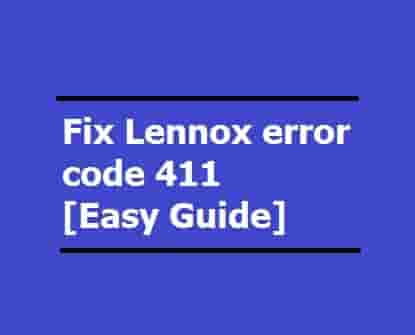 The solution of this  Error Code has some steps, and hopefully, these steps will get the issue resolved.
The first step includes the removal of blockages from the coils and fan. Sometimes, the fan or coil may block by some unwanted materials or dust, or other things. You should remove this blockage so that the fan or coil work proficiently.
Check the motor of the fan for indoor-outdoor current flow. This can easily be done by a multimeter, and if you don't have an idea how to deal with a multimeter then, go for a technician's help.
Using sub-cooling temperatures, check system charge.
Check system operating pressures and compare them to unit charging charts.
Check whether the pressure switches and sensors are connected securely with the system or not. If they are not, then this may lead to refrigerant leaks, or you can say, glitches in pressure and temperature measurements.
Turn the thermostat OFF and set the temperature. By doing this, the code will reset and hopefully disappear from the screen. Reset by putting the outdoor unit control in test mode.
Conclusion
Lennox error code 411 could be a code related to the refrigerant pressure. After applying the above steps, you can easily resolve this. If this error code is a result of mechanical failure and you don't know how to use a multimeter then, go with a technician. 
Suggestion 
A verified technician will be the best choice while many other technicians are also present in the market. Lennox Support center may guide you.
Related Guide:

Troubleshoot Lennox Error Code 901

Fix Lennox Error Code 292