Lennox is one of the top in-home heating and systems providers with headquarters in Richardson, Texas, United States. This company provides ventilation, air conditioning, and refrigeration products. However, some users may see Lennox Error Code 901 on their systems after the installation. 
Smart appliances always save your time and boost the relaxing experience. But, this may not happen always, sometimes, they may also throw an error code.
What is Lennox Error Code 901?
Lennox Error Code 901 is a thermostat critical system alert that usually indicates that the efficiency of the system is not as it should be. Generally, users may face this error code after the installation of the system. Additionally, it may also trigger when the system keeps running.
Let's understand how this error code could be resolved.
Troubleshooting: Lennox Error Code 901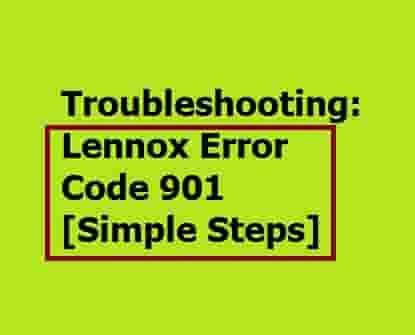 If recently, you have got this error code, then this guide can help you. However, we have spent much time on the internet to gather the beneficial information related to this error code but, we have managed to gather a little bit only. Hoping this information will help you. 
What steps Helped the Users?
Some users found that this error code was not causing any malfunction in the system so, they had ignored this error code. So, if it is true in your case too, you can too, ignore this error code. But what if, it is not? then the next step should be followed.
Make a call to Lennox, and the specialist will answer your questions. This page may help you to get in touch with the support members of Lennox. You can call on the number provided on this page.
Please, don't forget to share with us, if you get any other solution related to this error code. We will happy to publish the solution on this page so that others can also get benefit from that.
Additional Tips
Lennox unit has an inbuilt CFA cooling discomfort threshold that is by default set to ON. When it is set to ON, it detects measurable faults. When a fault is detected then, a service/repair of your unit is required. In addition, the algorithm monitors the temperature fluctuation and when it detects the temperature is above the cool setpoint or below the Heat SetPoint, an error code or alert code 901 may appear.
Conclusion
Lennox Error Code 901 usually indicates a system efficiency issue. This error can be ignored if this is not causing any malfunction in your system but, getting help from support will be a great idea to resolve this error.