Have you just been ON your Hulu device and tried to stream your selected item on it, but the Hulu Error Code P-DEV334 has occurred? If yes, then, this is the place where you can find the fixes to this particular error code. Some very simple and effective ways that are mentioned in this article, can help to resolve this issue and let your Hulu device be free from this error code.
If you are a streaming lover on the OTT platforms like Amazon Prime, Netflix, Disney plus, Paramount plus, or any other, you would know how irritating is to get an error during the streaming process.
Now, if you are using a Hulu device to watch your selected content on it and facing the error PDEV334, it's time to know what this error is and how you will get rid of this error. 
What is Hulu Error Code P-DEV334?
Like others, Hulu is also infected by some errors and bugs, and the Hulu Error Code P-DEV334 is one of these. 
Error code P-DEV334 on Hulu is just an indication of a connection problem that may occur when users try to stream movies and shows on it. The main culprits of the interruption in the connection may be a server issue, poor internet, cache issue, and sometimes an outdated version of the Hulu app.
Let's move on to the steps you are looking for to fix the error code.
How to Fix Hulu Error Code P-DEV334?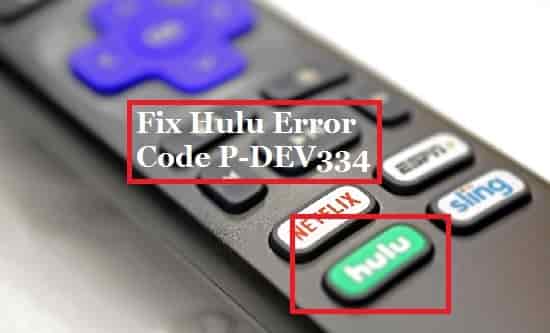 Well, as you can see in the title of this guide, we have written simple steps to fix the error code P-DEV334. So here are the simple steps that you have to perform to fix this error.
Check Internet
We have been writing on errors for more than a year, and we have noticed that many errors appear due to a bad internet connection. The error P-DEV334 can also be caused due to internet instability.
So, first of all, check whether your internet is having any issue or it is as good as required. Just restart your modem or router and check if any improvement has been seen. You can even perform a power cycle of your router device, this will help to obtain the increase in the internet speed.
You can also try a different internet device- so that it can be verified that the issue is on your internet.
Verify if a Server Issue
If you are facing any issue in connecting the application to the server, might be the server is down. So, verify if this is actually happening or not. You can take the help of the website- Downdetector to verify whether any server problem is undergoing with the Hulu app service or not.
Visit this link and see if many users are facing problems in connecting the application to its server or not.
Wait for a while and see- if the server issue gets resolved and the services of the Hulu app get resumed.
Clear Cache 
The cache files may get corrupted sometimes and cause an issue. So clearing them may resolve the issue and resume the Hulu app.
If you are using Hulu on your Roku Tv then, clearing the cache should be done in proper steps. Here is a guide, that will let you do this easily.
How to Clear Hulu Cache on Roku TV. 
If you are using the application on Apple TV, Chrome, Fire TV, or iOS device then, head on to this guide:
Clear Hulu App Cache from Apple TV, Chrome, iOS(iPhone/iPad), Android, and on Fire TV.
For Smart TV users, these guides will be profitable:
For LG Smart TV Users: How to Clear Hulu App Cache on LG TV.
If you have a Sony Smart TV, read: How to Clear Hulu App Cache on Sony TV.
Update the application
An outdated version of your Hulu app may prevent the application to perform well. So, installing the updated version can be considered as a solution to the error code P-DEV334. Just install the updated version and check if this solves your problem. 
So, tell us which step helped you, and don't forget to share this guide with your friend or on your social channels.
Frequently Asked Questions
What does error code P-DEV334 mean on Hulu?
Getting error code P-DEV334 on Hulu usually means that the application is failed to connect to the server.
How do I fix the Error Code P-DEV334 on Hulu?
To fix this error, check the internet, verify the server issue, clear the cache files, and at last install an updated version of the Hulu application.
Can I clear the cache files to fix the error code P-DEV334?
Yes, you can clear the Hulu app cache, and hopefully, this will help you to get rid of the error code.