The popularity of Hulu is not hidden from anyone. Numerous users are using this amazing streaming platform for many years. Sometimes, they may face issues due to its cache, however, cache helps but, it may also cause problems. If you are a Sony TV user and looking for a complete guide on How to Clear Hulu App Cache on Sony TV then, read this till the end.
There are also some frequently asked questions included in this guide that may boost your knowledge. 
How to Clear Hulu App Cache on Sony TV?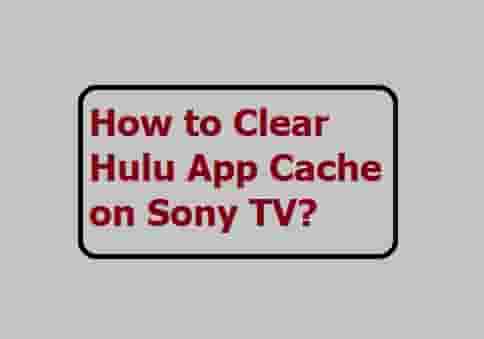 Plenty of users fail to perform this action as Hulu doesn't support many Sony TV models. To see which models it supports, a link is given in the FAQ section, you can follow that link to check if your model is supporting Hulu or not.
Now considering that your TV model is in the list of supported models, perform these steps to clear the Hulu cache from your Sony TV:
Caution: Before performing these steps, Verify that your tv is connected to the internet. When you clear the app cache and data, your settings, accounts, database permanently remove.
DON'T MISS: AMAZON HAS AMAZING DEALS ON SONY TVS RIGHT NOW!

GET IT ON AMAZON Direct Link- https://amzn.to/39SvORY
Press the HOME button on your remote.
Select Settings from the options.
Depending on your TV menu options:

Select Apps then, See all apps. Now, select Show system apps and then select Apps.
Next, under the System apps, select the Hulu app.
Now, selecting the Clear cache option and then OK will clear the application cache.
Clearing All Data
Perform this action if the issue still happens, here are the steps:
Select Clear Data, and press the OK button.
When displayed, select CLEAR ALL DATA, and lastly, select OK. That's it.
FAQ (Frequently Asked Questions by Users)
Why is Hulu not working on my smart TV?
Ans: This mostly happens if your system and the application are not updated. So the best way, if you find this issue, is to check for an update for your TV as well as for the Hulu Application. Sometimes, cache files may also cause this issue, so clearing them may also help.
Why does Sony not support Hulu?
Ans: Hulu has its minimum technical requirements, and an announcement was made by Hulu that if a smart TV does not meet these requirements, Hulu will no longer work on that device. If your smart TV doesn't meet these requirements then, Hulu will stop working on it and may throw an error with the text "Hulu Plus is no longer supported on this device" or "Your user session has expired." 

To check Supported device list visit- Hulu supported devices List.
Related Articles:

Clear Hulu App Cache from Apple TV, Chrome, iOS(iPhone/iPad), Android, and on Fire TV

Hulu Error Code P-TS207

Hulu Error Code RUNUNK13