Like many Zoom errors, many users are facing error code 104103, and they are not being able to use the platform for their needs. Now the question arises is- what this error is and how to fix it? Well, just follow this guide and you will get your answer and the solution to this unusual error code.
What does Zoom Error Code 104103 mean?
As Zoom's official announcement says, Zoom Error Code 104103 is an error that arises when your device fails to connect with Zoom's server. In simple words, this error code is a connection error that appears when the connection to your device with the Zoom server fails or is unestablished.
Now, let's see which steps will help you, and this error code will disappear after applying them.
Steps To Fix Zoom Error Code 104103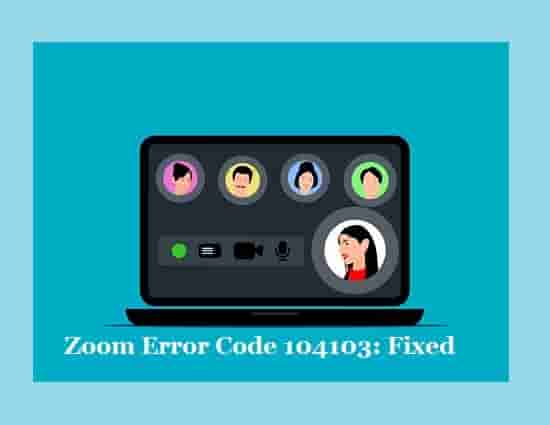 To fix the error code 104103, just follow these steps:
Troubleshoot Your Internet Issue.
Check Zoom's Server Status.
Clear Application cache and cookies data.
Configure Network Firewall.
Uninstall and Reinstall Zoom.
How Can I Resolve Internet Issues?
Well, the internet connection may be interrupted by many things. However, you can perform some simple tasks and resolve your connectivity problems easily.
First of all, perform a speed test to check if your internet speed is good enough or if it has a very low speed.
Disconnect other devices if they all are connected with the same Wi-FI network. This helps to boost signal strength.
You can check the hardware and verify if the issue is by them. Just unplug the LAN cable and reinsert it, and see if the internet speeds up or not.
Put your router closer to your device, on which- you are going to do work using your Wifi.
Perform a power cycle of your router and see if this helps to resolve your internet issue.
If nothing helps, call your ISP agent and ask to resolve the connectivity issue.
How to Configure Network Firewall and Proxy server?
Zoom officially admitted that the error code 104103 is related to the blocking firewall, TCP and SSL, and Proxy. So you must configure your firewall to fix this error code. The good news is Zoom itself officially has a detailed article on this. You can find the article here.
If the issue is still alive on your system, contact Zoom support and ask them to resolve it. To contact Zom Support, you can visit this official link.
Final Words
To sum off, Zoom Error 104103 is a connectivity error that can be a result of firewall blocking, proxy, SSL, and TCP. If you are encountering any other Zoom errors, you can ask us in the comment section. If your issue has been resolved using the steps mentioned in this guide, don't forget to share this guide with your friends.