A new Zoom error code 10010 might hinder connectivity with the Zoom server and lead to an issue. Zoom is a vast platform used to create or host online webinars/meetings. Sometimes, users may face errors on this platform, and their connectivity with their participants or hosts may get hindered.
Let's solve the error code 10010 on Zoom if this error is appearing on your screen and don't let you use the Zoom platform.
Fix: Zoom Error Code 10010
Although not much information is available on the internet on the error code 10010, we have created a list of simple methods that will resolve this error code easily. So, if you are getting this error, just follow these steps, and the error code 10010 will be resolved.
Check internet connectivity
Many zoom error codes could occur if there is a connectivity problem. A proper internet connection prevents many errors, such as 10010. So, to solve this error code, check if your device is connected to the internet or not.
Apart from this, disconnect your device and reconnect. Sometimes, the device shows connected but there is a problem in the connection, disconnecting and reconnecting will resolve the issue.
Restart Your Device
If there is a temporary glitch, restarting your device could be a good idea 💡.
Sometimes, just restarting your device will fix the error code 10010. So, close the zoom app and then restart your device and launch the app again. This will fix the issue.
Disable Antivirus Software
Antivirus software may cause an issue with zoom, this software may block some files that can lead to the error code 10010. So, to fix the error 10010, disable your antivirus software and launch the zoom App again.
Here is- how to disable Antivirus Software on Windows.
Disable VPN or Proxy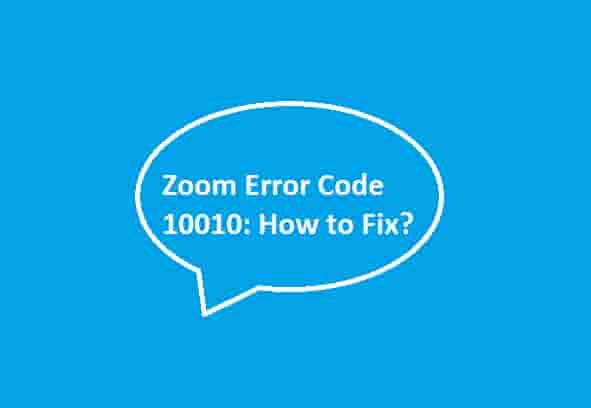 VPN or Proxy software may conflict with the zoom app and can be a culprit of getting error code 10010. 
So, if you are using a VPN server, disable it and then launch the zoom app. The error code will not appear on your screen.
Here is- how to disable VPN or proxy server. 
Disable Similar Programme
Similar programs like Skype and Microsoft Teams could also cause an issue with the Zoom app. So the best practice is to disable these programs while you are using Zoom. 
So, go to the task manager and stop the similar programs then back to Zoom and launch it. See, if this time you aren't getting the error code.
Uninstall and Reinstall Zoom
As the last option, you can uninstall and reinstall the Zoom app to fix the error code 10010. Sometimes, reinstalling the Zoom app fixes the error code 10010 as it installs the newest version of the app. 
So, open the control panel and uninstall the Zoom app from your computer then, reinstall it from Zoom's official website.
Final Words
To fix the Zoom error 10010, restart your device and check for a stable internet connection. Sometimes, clearing the app cache could resolve the issues.
Additionally, if these steps fail to work, disable antivirus, disable VPN or proxy servers, and uninstall then renstall Zoom.