Once you land on the website of Roblox, which is a global platform for connecting people through gameplay, you cannot stop yourself from playing the game. But unfortunately, errors can stop you. Error code 965 is one of many Roblx error codes that is preventing many players from playing their selected games.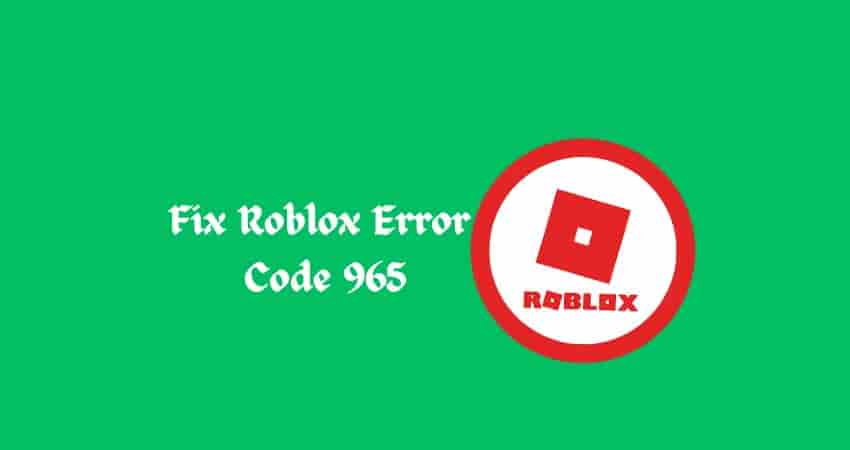 If you are also troubled by this error then you are on the right page!
In this guide, we will explain what this error code is and how to troubleshoot it to get your gaming back.
What is Roblox Error Code 965?
Roblox error code 965 is a common connection error that usually appears when Roblox's server feels overloaded or any maintenance activity. Additionally, this error may also appear when there is a network connectivity issue or account issue.
How to Fix Roblox Error Code 965?
To troubleshoot error code 965, first of all, check Roblox's server health, and if there is an outage or maintenance work is going on, wait until the developers resolve it. 
If the server is up and running, troubleshoot your internet and see if it is stable and strong. Also, switch to a supported browser like Google Chrome and disable the antivirus or ad-blocker.
Let's understand these all troubleshooting steps in detail!
Troubleshoot Internet Issues
Typically, connection errors come in appearance when you have a weak or unstable internet. So, first of all, troubleshoot your internet to make sure it is stable and strong enough.
Perform these steps –
Run a speed test.
Reboot your gaming device.
Power cycle the router/modem.
Disconnect other connected devices to free up some load on the signal.
At the end, connect your gaming device to the internet and then launch Roblox again.
Check Roblox Server Status
A connection error like 965 can also be caused by an overloaded server. So it is suggested to check if there is any outage or maintenance work in progress with the Roblox servers. 
Visit https://status.roblox.com/pages/history/59db90dbcdeb2f04dadcf16d to verify the status.
Disable Antivirus and Ad-blocker
Antivirus or ad-blocker may block certain files resulting in the error code. Disabling them should be your considered step to prevent such errors. 
Here's – 
How to disable antivirus software on your Windows PC and Mac. Ad-blocker extensions can be disabled from Extensions Settings.
Other Troubleshooting Steps
Although Roblox connection errors usually appear due to weak internet or server-related issues, you should also follow some other troubleshooting steps instead of just checking your internet and confirming Roblox server health. These steps include – 
Using supported browsers such as Google Chrome.
Disabling VPN or proxy software. 
Uninstalling and reinstalling Roblox.
If nothing helps, contact Roblox Support to verify if an undefined issue is going on.
To contact Roblox support, visit https://en.help.roblox.com/hc/en-us.