FNB (First National Bank) is one of the largest banks in South Africa. This has made it much easier for people to access services such as personal and business banking, loans, mortgages, investments, and online banking. However, some users have reported an error code 840 when trying to make a payment or transfer funds between accounts.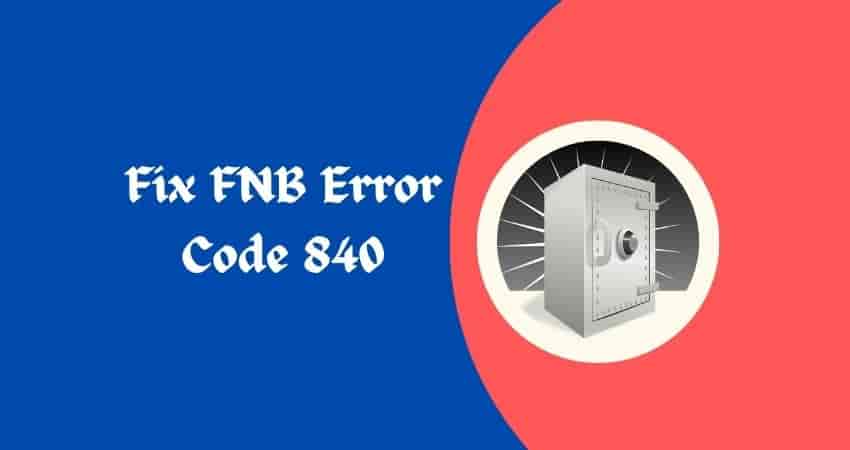 If you're seeing this error, and you don't know why, read this guide!
In this guide, we'll explain what this error code says and why it appears. After that, we will mention some troubleshooting steps to get rid of this error.
What is FNB error code 840, and what does it say?
FNB error code 840 is an error that prevents users from making payments or transferring money between accounts. It appears and says – "Sorry! We are unable to process your transaction at the moment. Please try again in five minutes. Error code: 840."
The message appeals to wait for a few minutes before making another attempt.
How to Troubleshoot FNB error code 840?
Try these troubleshooting steps to get rid of this error – 
Wait and Try Again
As stated in the error message, try again after a few minutes. This should be your first attempt – wait a few minutes and try again with a fresh start.
The error may be the result of a system failure of FNB Bank. Retrying means you are providing a few minutes for their system to reboot. This way the error may resolve itself.
Switch between the FNB app and the website
This might do the trick – if you're encountering the error code while using the FNB website, switch to the FNB app and vice versa. 
Reinstall or Update the FNB App
Error code 840 may be a result of an outdated app version. If you reinstall the app, the latest version of the app will be installed automatically and if you don't want to reinstall, you can update it from Play/App Store.
If the error is still not resolved then it means there is an undefined or unknown problem on the FNB side. You will have to contact them for help.
Visit https://www.fnb.co.za/complaints-resolution/talkToUs.html and report the error.