Is your streaming stopping due to Paramount Plus Error Code 6999? Do you not able to watch your favorite show, video, or movie on Paramount plus due to this error code?
Don't worry, follow the steps mentioned in this article, and get your Paramount plus error solved and back to your streaming.
Paramount Plus Error Code 6999
Paramount Plus Error Code 6999 generally appears when the platform fails to load the next content. This may usually appear on any device such as Samsung TV, LG TV, Xbox, Vizio TV, Roku, Fire TV, etc. Press the 'OK' button and go to the previous page and retry. Additionally, to fix the error code, restart your device and force close the app, and relaunch it.
To force stop the app according to your device, you can take the help of the official help article provided by Paramount. Visit here.
If still, you are facing the error, here are some other simple steps that may fix this, and you can get your streaming back.
How to Fix Paramount Plus Error 6999?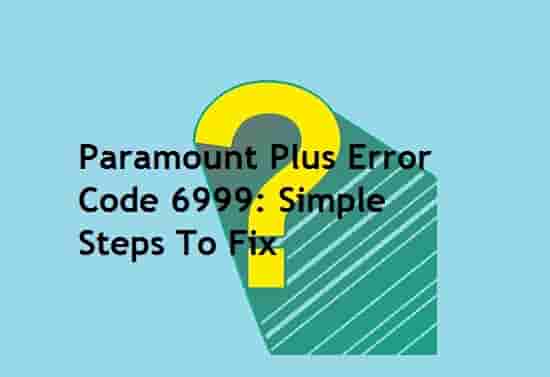 Check Internet Connectivity
To stream a high-quality video you will need a speedy and stable internet connection. So if you are getting an error code during the streaming on Paramount Plus, first of all, check whether your internet connection has good speed and is stable or not.
Perform a speed test. Make sure that the speed is not less than 5 Mbps. 
Additionally, restart your Internet device, and this will help to provide a fresh connection between your device and your internet. 
As an alternative step, you can also perform a power cycle of your router. This will also help to boost signal strength slightly and start a fresh connection.
Do Not Use Ad-Blocker
An Ad-blocker may block Paramount content and create issues to stream content properly. So, disable it and relaunch the Paramount Plus to see if this helps or not.
Install Pending Updates
If any pending update is available, it is good to check and install it. No updates should be missing for your device and the application- as an outdated version of your device and the application may create conflict and you may face the error code 6999.  So, you should always try to be up to date. 
Clear Cache
The best thing is to clear your device and the app cache, especially when you don't know why you are facing an error code. This could be one of the easiest ways to solve an error. Paramount plus error 6999 may also be clear by following this step.
After clearing the cache, restart the Paramount app and check the status. 
Uninstall and Reinstall
This should be your final choice when all the above steps fail to fix the error code 6999. Uninstall Paramount Plus from your device and then, follow the instructions, download it and install it again.
Final Words
Paramount Plus has many errors, error code 6999 is one of them. We have mentioned almost all the steps that can help you to fix this error code, but if these all steps fail, contact the support of Paramount Plus. 
Visit here to contact  Paramount Plus support for better assistance.