In this era, where all the gadgets are getting smarter, watches are also. There are many brands available in the market that provide smartwatches. The name Apple does not need an introduction. These days, Apple watches are at high fire and have become a trend among all who love smartwatches. But, if you need to factory reset your Apple watch, whatever the reason, like if you want to sell it to another person, or if there are any issues you are facing with your watch- this guide has the steps to do that.
Smartwatch can do many things, but sometimes, it may create an issue, and in this situation, you will need to factory reset your apple watch. 
This guide has 3 ways to reset your Apple Watch to its factory settings. Let's start with the first.
How to Factory Reset Apple Watch with iPhone?
Using your iPhone is the recommended method, and the steps are as follows:
First, remove any Transit cards you have stored with your Apple Watch. To do this follow these steps: Open the Watch app on iPhone -> Wallet & Apple Pay -> Transit Cards.
While keeping your watch and iPhone closed, open the Watch app on your iPhone.
Now, select the My Watch tab from the bottom, then click on All Watches in the top left corner.
Click on the circled "i" next to the watch that you want to unpair.
Now, select 'Unpair Apple Watch', and then click on 'Unpair' again.
Note: If you have a cellular plan, select to keep or remove the plan (you'll need to call your carrier if you want to cancel the plan).
Next, enter your Apple ID password when asked (This will remove the Activation Lock if it was enabled).
After completing the unpairing, you'll see the "Start Pairing" message.
Unpairing your Apple Watch using your iPhone is the best and most recommended method to factory reset your Apple watch. Doing this creates a backup, erases your watch, and removes Activation Lock and the connection to your iPhone.
Factory Reset directly on Your Apple Watch Without iPhone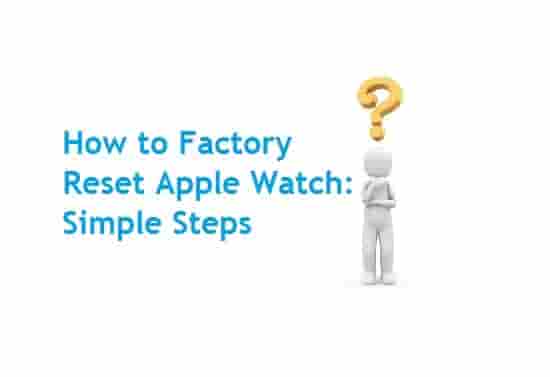 There are the steps that can reset your apple watch if you don't have your iPhone in your hand:
Open the Settings app on your Apple Watch.
Select General from the options.
Swipe down to the bottom and click on Reset.
Select- Erase All Content and Settings.
Enter the Passcode when prompted.
Now, swipe down and click on Erase All or Erase All & Keep Plan- if you have a cellular watch.
How to Factory Reset Apple Watch Without Passcode?
If you don't remember your passcode, you still have the option to reset your Apple watch. Here are the steps, but before following them, connect your watch to its charger and keep it there until you complete them.
Press and hold the side button until the Power Off option has not appeared.
Next, press and hold the Digital Crown. 
Now, you will see Erase all content and settings option.
Next, click on Reset, then tap Reset again to confirm.
Now, wait until the process finishes, then set up your Apple Watch again. When asked, restore from a backup.
Final Words
There are three ways that can help you factory reset your Apple Watch. One of them allows users who don't have a passcode. Tell us which method you have tried and also comment if you are facing any other issues with your Apple Watch.