Zoom application is being used by millions of people worldwide. When going to schedule or attend an online meeting, the name of this application comes first. Like others, this application has also some errors, because many users are reporting Zoom Error Code 300 during the sign-in to their accounts.
Also Read: Free Video Conferencing Apps in 2021
When a user is in the middle of any online meeting and gets an error code, this would be very daunting for that user to skip that meeting from the middle.  To overcome the frustration of many users, this guide is going to explain some useful methods to fix this Error code on Zoom.
Also Read: 
Best Video Conferencing Apps For Linux
How to Blur Background in Google Meet During Video Call on Phone
Blur the Background During Video calls on PCs: Google Meet
What does Zoom Error Code 300 Indicate?
Error code 300 on Zoom indicates an issue with sign-in or login on Zoom's website or the Application. Generally, this error code appears when users try to sign in to their Zoom account using their login credentials. This error code may be faced by both app and web users.
Now, let's explain its solution.
How to Fix Zoom Error Code 300?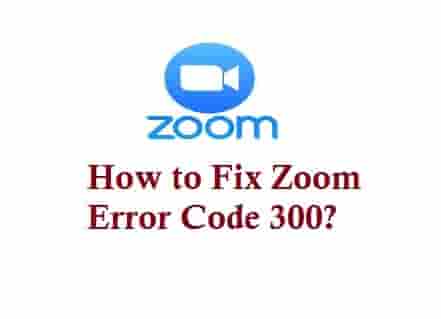 Open the Zoom application.  (Web or App)
Click on the Sign-in link and then click on forget password option.
Next, enter your registered mail ID in the Email ID section area and fill the captcha.
Click on Send option, this will send a password reset link on the entered email id.
Now, log in to your mail and click on the reset link.
Next, enter a new password here and confirm it.
Sign in using this new password, and all done.
Feel free to comment to us, if you have any doubts in your mind. We have tried to explain the simple method to fix this error code, but, if you have found any other method, please share it in the comment section.