As an instant explanation, Xbox Error Code 0x87e50031 typically indicates a temporary issue due to the server outage. Users may get this error code when they do try to play any game on their console. What steps you should do when you got this error code? Allow us to discuss in simple language.
How to Fix Xbox Error Code 0x87e50031?
Check Xbox Live Status
As the first step which you should notice to perform is to visit the Xbox status page. Here you can easily check if any server issue is happening, or any maintenance work is going through. Just expand the services on this page and check for the notification. Sign in, and when the issue will be resolved, you will be notified.
Nevertheless, you are free to play offline games if any issue is with the server. When the service is back and running properly, you can move on to the online game.
As a transient issue, this error code can disappear after a while. So wait for a while when you encounter this and try after some time.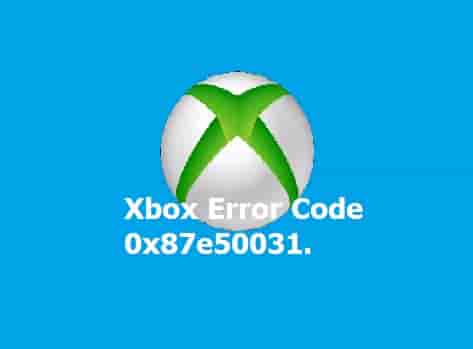 Restart Game and Console
This is a simple step but, sometimes very effective. Just follow these steps: 
Press the Xbox button on the controller and the guide will appear.
Go to the settings options and select the restart console option.
Next, select the Yes button and wait until the console restarts properly.
Launch the game again and check the issue.
Perform a Power cycle
You can't ignore his steps as well. Some users noticed when they perform this, the error code flew away.
Turn off the console by pressing the Xbox button for around 10 seconds. 
After that, unplug all the cables from your Xbox console and wait again for 10 seconds.
Replug the cables and press and hold the Xbox button again to start.
Conclusion
To sum of, Xbox Error Code 0x87e50031 indicates an issue that prevents connecting the game to the Xbox server. A server outage or any maintenance work can be the main reasons behind this error code. To fix this issue, visit the Xbox Status page and check for issues happening with the servers. Also, performing a power cycle and restarting your game and Xbox console can help to resolve the issue. 
---
Visit These Guides:
---
These were the possible solution to the error code 0x87e50031 on Xbox. If you find other solutions, share them in the comment section. Also, share which actions did resolve your issue.