The occurrence of Xbox Error Code 0x87e50033 is very common, and users can see this error code on their screens time-to-time. In this guide, we will show you the possible instances when this error code may appear and also, the fixes too. By using this guide, you can easily rectify the error code. So, let's do it.
As of the explanation mentioned in the official guide, Xbox Error Code 0x87e50033 shows a temporary glitch that can be easily resolved by restarting the game or the application itself. Additionally, when restarting doesn't help, check Xbox Live server status and check for an update. 
Now, come to the explained solutions, when just a quick overview doesn't help. 
Explained Methods to Fix Xbox Error Code 0x87e50033
Restart Your Xbox and Game
Restarting your game or Xbox, reboot the game and the application. This helps to fix temporary issues and errors, such as 0x87e50033. Let's perform these steps:
Press the Xbox button on your controller, and the guide will open.
Highlight the game which is causing the issue, and with that, press the Menu button. 
Select 'Quit' from the menu.
Next, wait for 10 to 15 seconds and start the game and the application again.
See if the issue has been rectified now. If not, go for the next.
Check Server Status and outage of services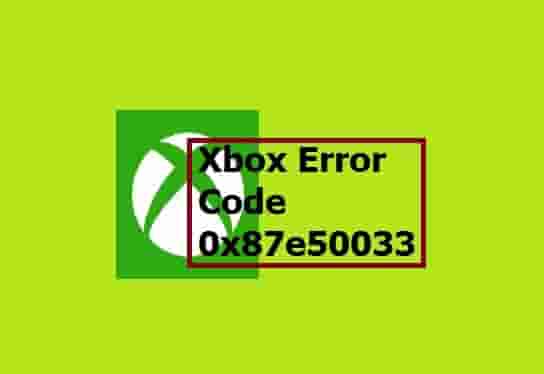 Xbox Live Status page tells you about the server status and the services outage. Visiting this page could be an easy process to understand whether the error is a result of any maintenance work or server outage. Users can trust this page, as this is an official page of Microsoft itself. 
When any maintenance work is going to perform, the servers are kept close for some time. After the compilation of the work, you can check if your issue has been resolved or not. If this was not your concern then, might be the next step will fix the issue.
Check for Updates
Check your Xbox console to look if you have avoided any pending updates that you should do before. If you have noticed any updates then, download them. Doing this, probably solve the error code and save your time.
Conclusion
To sum of, Xbox Error Code 0x87e50033  indicates a temporary issue. To fix this restart your game as well as Xbox console and visit Xbox live status page to verify any server outage or maintenance work is being performed. In addition, visit your console to see any pending updates that should be downloaded.
Don't forget to read:

How to unlink a Roblox account from Xbox

How to fix Xbox Error Code 0x87e11838

Fix Xbox Error Code 0x87af000d

Xbox Error Code 0x80832003

Xbox Error Code E105