Xbox One has many startup errors, as the official announcement says. Today we are going to elaborate on one of those, which is Xbox One Error Code E102. This error code is quite frequent to get on your screen but luckily, some useful resources are available online. So you don't need to worry about this. This error code can be easily fixed using these resources.
What does Xbox One Error Code E102 say?
As per the official announcement, Xbox One Error Code E102 indicates an issue in the startup but, this can also be seen during the OS update. Some users are getting this error code during the startup, while some are getting it when they are installing an OS update. So, saying this error code is only a startup error will not be a good judgment. 
So, let's start troubleshooting this error, including the official methods and some additional tips.
Related Guide:

Fix Xbox Error Code E105

Xbox Error Code 0x80832003

Xbox Error Code 0x89231053- Party Chat Not Working
Fix: Xbox One Error Code E102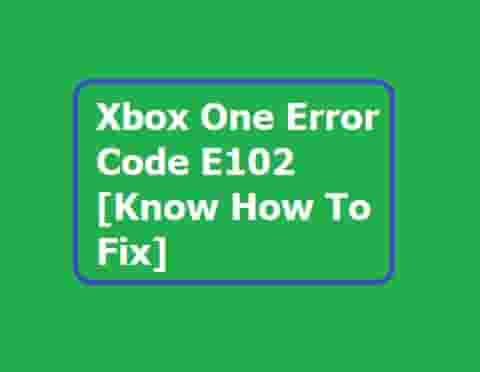 A. Use Xbox One troubleshooter (Start-Up)
Turn your Console OFF and unplug all the cables and wires from the power points.
Next, this is to wait for 30 seconds, then replug all the cables, and also plug these cables into the power points.
Press Pair and Eject buttons together and hold for a while and then, press the Xbox button. This doesn't importantly available the Eject buttons on all Xbox Series S and Xbox One S. If it is not available on your console then, press and hold the Pair button and then, press the Xbox button.
During the holding of the Pair and Eject buttons, listen for the two power-up tones, and listening second-time tone, release the buttons.
Now, the console will power up, and it will reflect you directly on the Start-up Trouble-shooter.
B. Restore the Console to its Factory Defaults
Warning: When you perform a reset of your console to its factory defaults, this will erase all accounts, settings of saved games, and the association with home Xbox. Additionally, if anything else that is not synchronized with Xbox Live, will also be lost. That's why we will recommend using this as the last option.
Now, we are assuming that you know all consequences. The steps are given below to reset your console to its default.
Tip: Plenty of users admitted that they have resolved the Xbox One Error Code E102 by performing a factory reset. So, this can be the best action to get rid of this error code from your console.
After opening the troubleshooter, select Reset this Xbox from the option. A popup may appear, select Remove everything, and all the data, saved games, and settings will be deleted. 
Merit and Demerits: Your console should start functioning properly and the error code should not appear. This will be a benefit, and if we talk about disadvantages then, you will have to re-download your games and applications after performing this. But, we don't think that reinstalling the applications and the games should not be a tough task to do.
Additional Tips
Sometimes, the online re-setting process does not happen, in this case, you should try resetting your console to its factory default by applying the offline method.
Turn Off your console completely. Unplug cables from all the power sources and the console as well.
Wait for 30 seconds and replug all the cables again as was previously.
Plug a USB drive with USB 3.0 external storage and a capacity of 128 GB or greater.
Press and hold the Pair and Eject buttons together, and then, press the Xbox button.
When the second power-up tone is heard, release the pair button. 
Remove the drive when the console restarts.
Reference has been taken from: Support.xbox.com