You just want to stream your favorite show or video on Disney Plus but accidentally get an error code 92 on your screen. What will you do? As per human tendency, you will start searching about this error code or you will just go to contact the Disney Plus support. Before contacting support, here are some simple and easy steps, that you should try, and try to fix this error on your own.
Disney Plus is one of the popular OTT platforms that allows users to stream content online. Sometimes, streaming can be stopped due to a temporary error like Disney Plus Error Code 92. Did you get this error code? If your answer is 'yes' then, this guide will tell you what should you do to resolve this.
Disney Plus Error Code 92: Explanation
Disney Plus Error Code 92 is a temporary error that can be a victim of a temporary service outage, Poor internet connection, and server issues. Additionally, an outdated application's version may also cause this error code. If you are getting this error code on your computer then, antivirus software can also cause a problem resulting, you may face this error.
If facing this error on your computer then, disabling Antivirus software may help to fix the issue.
---
                       How to Disable Antivirus software on Windows 10.
                       How to Disable Antivirus Software on MAC.
---
How to Fix Disney Plus Error Code 92?
Some simple steps have to be followed to fix this error code. Let's start with the first.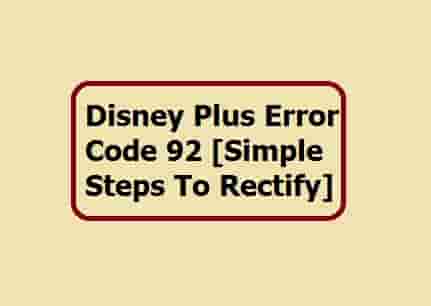 Check For the Internet Issue
Make one thing clear that to stream online on Disney Plus, good internet is always required. Most of the common streaming issues are related to a poor internet connection. So, when you get an error accidentally during the streaming, you should check your internet connection, and try to troubleshoot if any issue is accepted.
Power cycle
A complete power cycle helps to boost the streaming condition. This usually restores the connection and functionality. So, perform a complete power cycle possess and see if this helps. Just switch off your device and after waiting for at least 5 minutes, Restart it and try again.
Check For an Update
An outdated version of your device or the application sometimes causes a compatibility issue. So always keep updating your device version and the application version too. Whatever device you are using to stream content on Disney Plus, try to use the latest version of the application.
Check For Server Issues
The most common issue behind error code 92 can be a server problem. If this is the case, you just do wait and do nothing from your side. Check Disney Plus server status from here and if a lot of users reporting the same issue then, you have to wait until the server is back to its normal condition. Try streaming after some time and check if the issue is no more.
Uninstall and Reinstall
Nothing to worry about if any of the above-mentioned steps don't help. Uninstalling and reinstalling the application may do the proper work. So, as the last solution
Conclusion
In conclusion, Disney Plus Error Code 92 indicates an issue connecting the application to the server. A poor internet connection, outdated version, and a temporary service outage may responsible for this error. To fix this error, check server status, check internet connectivity and update the application to its newest version.
Read Also: How to Fix Disney Plus Error Code 31