ISP inability is required to access all the online content if you want to access them on your Samsung Smart TV. Somehow, if it is blocked then, you may face Samsung TV Error Code 202 on your screen. There can be more reasons behind this error code too. We have tried to explain this error code in a single paragraph and also given a detailed solution. It is very necessary to understand an error code competently before going to its solution since this makes it easier to solve.
What is Samsung TV Error Code 202, and when it may appear?
Samsung TV Error Code 202 is an internet connection error that prevents users to access online content like- Hulu, Netflix, Amazon Prime, etc. Getting this error code denotes that the Smart Hub is unable to find an Internet, or sometimes, the ISP services have been blocked. Troubleshooting your internet connectivity issues as well as ISP blockage may fix this issue.
ISP is used for companies that provide internet connectivity. This is an industrial term. Error code 202 on your Samsung tv may appear if somehow, the ISP services have been blocked. So this is very important to fix this error code to access all online content as well as surf the internet.
Samsung TVs are known to have issues with some router brands like NETGEAR and ASUS. So, if you are using any of these then, most probably, this can be a reason behind the Error code 202.
If you are facing this error code while you are trying to access a single application on your Tv then, clearing the Application cache or uninstalling and reinstalling it may resolve the issue.
Don't skip to fix Samsung TV Error Code 107
How to Fix Samsung TV Error Code 202?
There can be many reasons behind this error code but, here, you can do some very useful actions in respect to fixing this error code.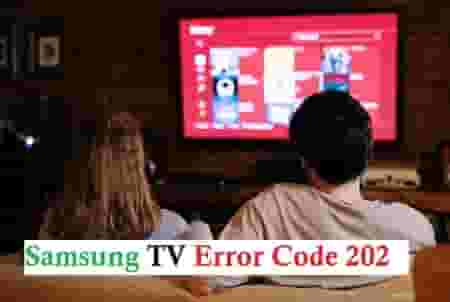 An outdated term of the update can also be a reason behind this error code as outdated firmware may fail to perform with the latest network configurations. So, Updating the tv firmware may resolve the Samsung TV Error Code 202.
Read our Guide to Fix Samsung TV Error Code 118
Update TV Firmware to Fix Samsung TV Error Code 202
Go to Settings and select Support.
Next,  select Software Update, then the Update Now option.
Now, install the update by following the on-screen instructions.
As the update is installed, the TV will automatically reboot. Now, check if the issue has been gone or not.
Note: However, you can use an Ethernet connection too, to update the Samsung TV over the internet.
If you don't have internet then how you can update the TV's Firmware?
If you don't have internet then you will have to have a USB drive to update your TV's Firmware.
Click on the Support category and then select manuals & Softwares.
Next, select TV and Home Theater from the product type and then TV's.
Enter your TV's model number and Click on MANUALS AND DOWNLOADS.
You will have to click on the download option and the firmware will save.
Next, insert a USB drive and copy-paste this downloaded file (Zip File) into it.
Now, insert this Drive to your TV and then follow these instructions.
Go to your Remote and press the Menu button on it.
Select Support from here and then select Software Upgrade.
Select the option- Update via USB and then click on the OK button. Make sure your Samsung Smart TV is connected to the internet.
Change DNS Settings
On remote press- Home button-> Settings->Network then Network Status.
Now, select IP Settings and choose Enter Manually option from here.
Enter 8.8.8.8. This DNS is provided from google for free.
Other Samsung TV Errors:

Samsung TV Error Code 105

Samsung tv error code 001 or Error_exe_001