Amazon is an online streaming platform and allows users to access its content on phones as well as on TVs. Usually, this performs well but, sometimes, an error may appear during the streaming. Likely, some users are facing Amazon Prime Error Code 5505 when they are trying to access the contents of this application.
As always, we have carried some useful information that will help you in fixing this error code from your screen. So without wasting time, access the information step by step.
Amazon Prime Error Code 5505
Amazon Prime Error Code 5505 indicates an issue with the country settings, which means if you are getting this error code, you have to check that from which country you are trying to stream contents, your country settings are updated in that country or not. 
Luckily, doing this is very easy, as we will provide a step-by-step guide on it. You just have to follow these steps, and the error will vanish from your screen.
Have a look at our guide to Fix:

Amazon Prime Error Code 5004

Amazon Prime Error Code 6085 or 6084

Get rid of the Amazon Prime Error Code 4090.
How to Fix Amazon Prime Error Code 5505?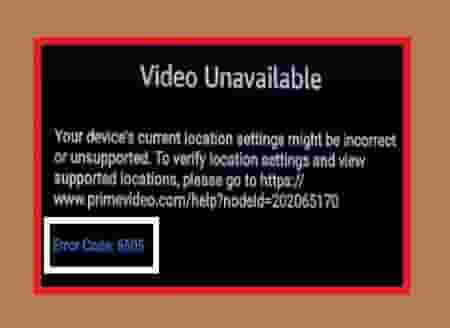 As we have mentioned this error code indicates an issue with the country setting or location settings, you would be able to fix the error by updating this.
How to Update your Location?
Now, enter your mobile number or Email id whatever is associated with your Amazon account, and click on the continue button next, enter your password, and click the sign-in button.
Go to the settings and then the country/region settings option and click on change.
Next, a form will open in front of you, fill this form properly and click on update.
Now, switch to your Fire TV and deregister then reregister to your account here.
You have to wait for up to an hour for the changes to take effect.
Deregister and register using an amazon account on your Fire TV
Accessing the Fire TV menu go to Settings=> My Account.
A pre-registered account will show, click on this account and select deregister option. A confirmation popup will appear, click on Deregister again to confirm.
Now, click on Register after completing the deregistration process. Here you can select your wished Amazon account to do this.
Next, follow the guideline to complete the process.
That's all. Now, we are hoping that the Amazon Prime Error Code 5505 has been fixed from your screen. If you have any further queries, don't hesitate to ask us in the comment box. Make sure your queries are genuine and related to the topic.