Amazon Prime users are getting an Error Code 4090 while they are going to download any videos, shows, and episodes to watch later. Amazon allows users to download content to watch later when there is no internet available. This feature is quite good but sometimes users may face error codes on their screens while they are using this feature. 
This guide is for the users who are getting this error code and unable to fix it on their own.
What is Amazon Prime Error Code 4090?
Amazon Prime Error Code 4090 is a download error that may appear when users try to download content like movies, shows, and videos. Corrupted cache files, poor internet connection, or sometimes expired subscriptions may play the main role behind this error code.
This error code may bother you but, don't worry there are some useful methods are present to fix it. You just have to be with this guide, without skipping anything. 
Points to Pay Attention!
If you purchase an amazon subscription, you come to know that you are eligible to access all the content available on it. But, sometimes this may wrong as amazon has the right to remove or update any content anytime.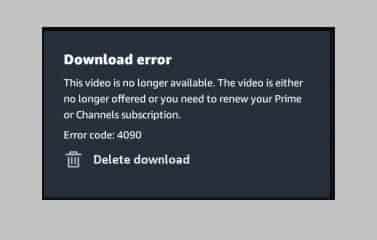 Sometimes, this may happen that you are trying to download that content that has been removed from the app. If it happens, then you can't access that content anymore. 
Some users are getting Amazon Prime Error Code 4090 when they are accessing or trying to download a single episode of their favorite show, while other episodes working properly. For those users, it is quite tough to understand that why they are getting this error message. 
Note: Some content available on Amazon Prime may not accessible from some specific regions or countries. So if you are traveling somewhere, maybe you can face an error code 4090.
Don't forget to check another download error code- Amazon Prime Error Code 4905.
Methods To Fix Amazon Prime Error Code 4090
Check Internet Connection.
Log out and log in again.
Uninstall and reinstall the Application. 
Check if your subscription has expired.
Check Internet Connection and Subscription time
A proper internet connection is a must if you are trying to download an episode, movie, or show. You should also check if your subscription has not been expired. 
Users may face a purchase error that is- Amazon Prime Error Code 3565. Don't forget to check out if ever you get this.
Log out and log in Again
Logging out and then logging in helped many users to fix Error Code 4090 on Amazon Prime. So, if you have a proper internet connection and your subscription has not been expired yet, then you should try this method.
Clear the Application Cache
An application cache helps to run or load the application faster but, sometimes, some corruption may occur that may lead to an error. At this time, clearing these cache files may help to fix the error code. So if you encountering Amazon Prime Error Code 4090, you should clear the app cache to fix this error.
Android Device users
Go to settings and then click on Apps.
Next, click on manage apps.
Find Amazon Prime from the list and click on it.
Now, go to storage and click on Clear Data.
Select- Clear all data from the popup and press the OK button.
Uninstall and Reinstall The Application
If all the above method fails to fix the error code then, you can try uninstalling and then reinstalling the application. This might be helpful to resolve the issue as many users found this helpful too.
Hopefully! the issue will have resolved now. Thanks…
Don't Skip:

Amazon Prime Error Code 6085 or 6084

Amazon Prime Error Code 1061