Have you recently face Nintendo Switch Error Code 2813-0091? Nothing to get panic. You will get a complete knowledge of this error in this guide. 
Nintendo Switch is a console like Xbox and others, and this is quite popular among all gamers. Users can keep this console whenever they are going out from home and play games on it. But, this is the time to explain what is this Error Code on Nintendo Switch, and when users face this, and of course, how to fix it.
What does Nintendo Switch Error Code 2813-0091 indicate?
According to the official announcement on the Nintendo support page, Nintendo Switch Error Code 2813-0091 indicates a problem in the transactions process. Usually, this error code appears when users are trying to purchase from eShop, and states that the "Nintendo eShop is not currently available in your country or region."
As usual, when you are going to purchase a new launch or anything else on Nintendo eShop, and after entering your credit card details, when you proceed to complete that purchase, this error code may appear. Well, let's discuss how you can flush this error code.
Fix: Nintendo Switch Error Code 2813-0091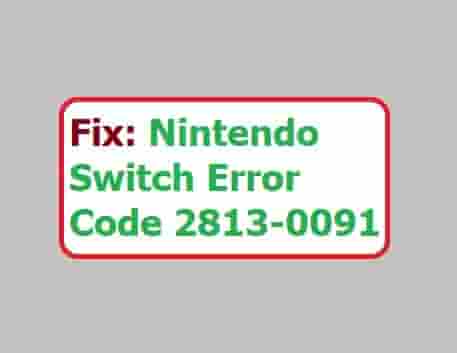 Some very easy steps have to do, and hopefully, the error code will wipe out from your screen. Here are these steps:
According to its official announcement on the Nintendo support page, this error code can be easily fixed by re-entering the eShop and trying again for the purchase. If still, the issue doesn't resolve, then maybe a temporary outage of the service from the Nintendo. In this situation, wait for some hours and then trying again may help.
Some users on Reddit admitted that they have faced this error code when they had done some slight mistakes in entering the details during the purchase. So cross-check your details and re-enter them correctly, and check if the error code has been disappeared.
This has helped a user, when he changed the credit card details and proceed to purchase, it's done, the error code did not appear. So, if possible, you should also change your details and try again. 
Hoping, this time, the error code will no longer be on your screen. If still, it is appearing, feel free to contact Nintendo Support.