Google is in the race of Laptops and computers with the other popular brands over the world. Chromebook is designed for users to do things faster but, some applications, like, Microsoft Teams may not run properly on this. As some users are reporting that the "Microsoft Teams Not Working on Chromebook", we are presenting this guide and hoping that this will help users to fix this issue.
The application is easy to download and install from the Play Store but, sometimes, this may not work as this should. If you are experiencing the same trouble with your MS Teams Application, then what should you do? Here is all about this.
How to Fix Microsoft Teams Not Working on Chromebook?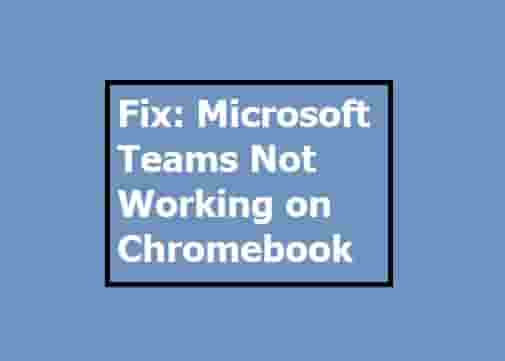 A list of simple actions are given below that has to be performed if you are experiencing this problem:
Check if your browser needs to be updated.
Don't block third-party cookies for Microsoft Teams, enable it.
Clear the browsing history as well as the application cache.
Disable extensions installed to the browser.
Check the date and time settings, if it is incorrect then correct it, and also, set your correct time zone too.
Reset your Chrome browser: Click on three dots on the Web browser windows and select settings. Next, expand the Advanced sections and click on the Reset and Clean up option.
Uninstall and Reinstall MS Teams.
If still not working, contact your IT Admin.
Conclusion
If you're facing the issue "Microsoft Teams Not Working on Chromebook" then, checking for the browser's update, Clearing the application cache and browser history, setting your system time and date to automatic, and enabling the third-party cookies for MS Teams helps to fix the issue. Additionally, uninstalling and reinstalling the application may also work as a helpful idea.
If you have got any other idea, feel free to share in the comment box.
Useful Articles:

Together Mode Not Available in Microsoft Teams

Fix Oh Dear! Your Call Has Dropped on MS Teams

How to update your ChromeOS

How to Hide Google Chat (Hangouts)
Disclaimer: All the above information is provided in good faith and the purpose is informational only. However, we make no representation or warranty of any kind, express or implied, regarding the accuracy, adequacy, validity, reliability, availability, or completeness of any information on the Site.