You can't find any other platform better than Ticketmaster for buying or selling tickets to sports, concerts, theater, family, and other events. Unfortunately, the platform has many errors and problems that users face regularly. Error code U710 is one of many Ticketmaster error codes.
If you are also facing the same error, then you have come to the right webpage.
In this guide, we will explain this error in which we will include its possible causes and troubleshooting methods to resolve this particular error.
So, let's start without any delay!
Ticketmaster Error Code U710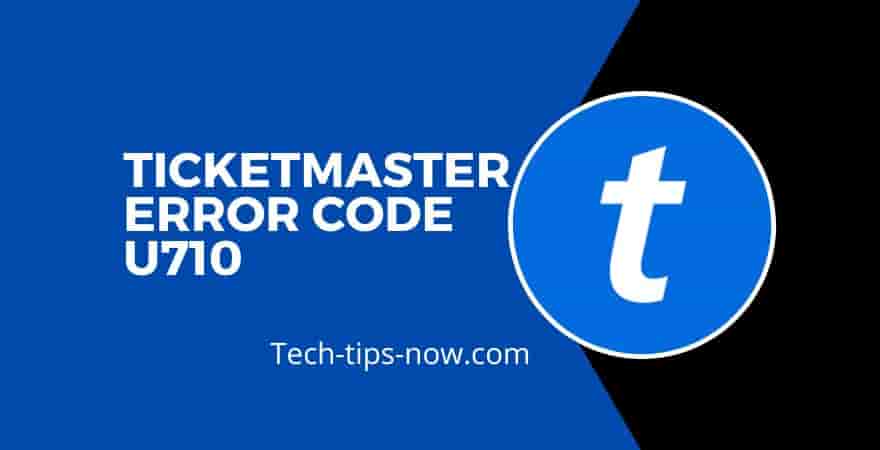 This error code occurs while booking/buying tickets. Cache and cookies data, expired sessions, unstable internet, multiple logins, etc. can be responsible for this error. 
What is Ticketmaster error code U710? 
This error code appears when the platform is unable to book your ticket. This is a temporary error that can appear due to many reasons like corrupted cache and cookies data, expired sessions, unstable internet, multiple logins, etc.
How to Fix Ticketmaster Error Code u710?
Follow these troubleshooting ways to get rid of this error code- 
Refresh The Page and Re-attempt
The first troubleshooting step is to refresh the page and re-attempt. Sometimes, this simple step can resolve many big problems.
Check your Order History
Sometimes, the error appears after successfully placing an order. So, check your order history and if it has been placed successfully, you don't need to worry. Just ignore the error, it's a system glitch, but your ticket has been booked.
Don't Use Multiple logins
Make sure you are not using multiple logins. If you are, Ticketmaster will calculate multiple sessions and hence you may encounter the error U710. 
So, if you have multiple logins, log out and use only one login at a time while booking/buying your tickets.
Fix Your Internet Issues
While booking your tickets, it is necessary to have stable and strong internet. Slow/unstable internet might prevent the Ticketmaster app/web from connecting to its servers, resulting in an error appearing.
Consider restarting and power cycling your modem/router. Switching between available networks can also be a possible solution to Internet-related problems.
Clear Cache & Cookies Data
Whether you are using the Ticketmaster website or app, clearing the cache and cookies data can help fix error code U710.
Browser (Chrome)
Click on the three vertical dots (Top right corner of the browser's screen).
Hover your mouse's cursor on the "More Tools" option and select "Clear browsing data…"
Under the advanced section, select the time range.
Ticke the three boxes- "Browsing History", "Cookies and other site data", and "Cached images and files."
Finally, click on "Clear data."
Mobile Devices
If you are using the Ticketmaster app on your mobile (Android or iOS phone), access app settings to clear all the app cache and data. 
Disable Proxy or VPN
Proxy/VPN may point out your location away from your region. So disabling it may help resolve error U710. It is strongly suggested not to use a VPN while booking your tickets to avoid any errors or issues.
Preventive Hacks to Avoid Errors When Buying Tickets on Ticketmaster
It is common to receive error codes when purchasing tickets on Ticketmaster. But you can prevent them by choosing some easy hacks-
Don't use multiple logins (log out from other devices).
Avoid using a VPN or proxy.
Use the correct date and time and ensure that the time & date of your device is correct.
Clear cache and cookies data. (Browser and App)
Make sure you have fast and strong internet while booking tickets.
Avoid using public Wi-Fi networks or the Internet.
Don't copy and paste URLs from one device to another.
Contact customer support for help.
Final Words
Error code U710 can arise due to several things such as corrupted cache and cookies data, expired sessions, unstable internet, multiple logins, VPN/Proxy, temporary system glitch, etc.
But hopefully, fixing this error code is very easy. All the verified methods are mentioned above.
We hope this guide helped you!