Nike Error Code 310815f3d: Nike serves multiple countries and is noted for its shoes and other footwear needs. The company is included among the largest footwear services providers. 
It provides platforms such as the Nike App, SNKRS App, Nike website, etc., and all have a large number of daily visitors.
Unfortunately, some visitors may face some kind of bugs like errors and checkout issues. Sometimes, some users face promo code issues too.
310815f3d is another error code that users have encountered recently or are still facing and are struggling to understand what it is and how to fix it.
In this guide, we will explain all relevant information so that you can easily understand this error and fix it to complete your order.
What is Nike error code 310815f3d, and why does it appear?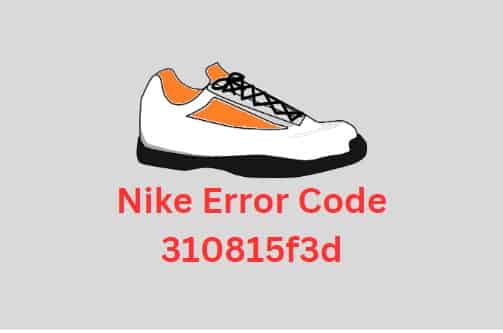 Error code 310815f3d on Nike implies a checkout problem, and users usually encounter it when they add an item to the cart and try to order. 
The error appears like this- "We had an issue with your request. If you continue experiencing issues, try refreshing the page. [Code: 310815f3d]."
There is no proper reason for the displayed error message. Since the error appears on checkout, there are a few common reasons that can be the culprit for getting an error like 310815f3d, and here they are:
Invalid payment detail.
The applied Promo code is not working.
The product is removed or out of stock.
Corrupted cache and cookies data.
A VPN is enabled.
Rather than these causes, server outages might also be included.
How to Fix Nike error code 310815f3d?
To fix the error code 310815f3d on Nike:
Make sure your provided payment detail is valid. 
Ensure that the added item is currently available or out of stock.
Remove promo code, if applied.
Clear cache & cookies data.
Disable your VPN.
#1. Check Your Entered Details
Go back and check the details that you have entered to make the payment.
Use another payment method.
#2. Check the Availability of the Product
The order may be rejected if the product is not in stock.
Check by visiting the product page. Here, you'll see "Currently out of stock" at the bottom, side, or top of the product image.
#3. Use a Valid Promo code
If you have applied an invalid or expired promo code, you will see an error. Use a valid promo code that is suitable for the product and make your order.
#4. Try Different Payment Detail
If you have checked your payment details, everything is correct, change your payment detail or use another card to order.
Nike accepts Visa, Mastercard, Diners Club, Discover, American Express, Visa Electron, and Maestro. Use any of these.
#5. Switch your Browser
The issue could be particularly with a single browser. If this is the case, switching your browser might help.
Switch to Chrome if the error is appearing on Firefox or other browsers.
#6. Clear Cache & Cookies Data
Corrupted cookies data can be a reason.
Clear cache & cookies data and try again.
#7. Disable VPN or Unnecessary Extensions
If you are using a VPN, it might create issues while checkout. So disable it and try again.
Uninstall or disable unnecessary extensions while ordering anything.
#8. Check Server Status
Visit downdetector.com to see if there s any services outage or not.
If many Nike urs are facing the same problem, the graph will appeared spiked. If so, wait for a few minutes, and try again.
#9. Contact Nike Support
Contact support and tell them the exact issue.
You can call them for a more frequent answer.