Cricut "Make It" Button Not Working: The Cricut is a machine used for various things such as cutting different materials for your craft projects such as paper, vinyl, cardstock, etc. Besides, you can use this machine to cut fabric, leather, thin wood, and many more.
The machine has the facility to connect it wirelessly to your computer. This allows you to design your project on your computer and when the design is complete, send it to the Cricut machine to be physically shaped.
To print a design you've created on your computer, all you have to do is load the materials into the machine. 
As we mentioned earlier, you can use different materials. So, load the content and within a few seconds or a few minutes (depending on the speed and content), your design will be ready to be viewed.
The machine has good "pros" parts, but it also has "cons". One of these "cons" parts is the problem users face with its buttons.
In this guide, we're going to explain how to fix a non-working "Make It" button on the Cricut machine keypad.
Troubleshoot a Non-Working "Make It" Button on the Cricut Machine Keypad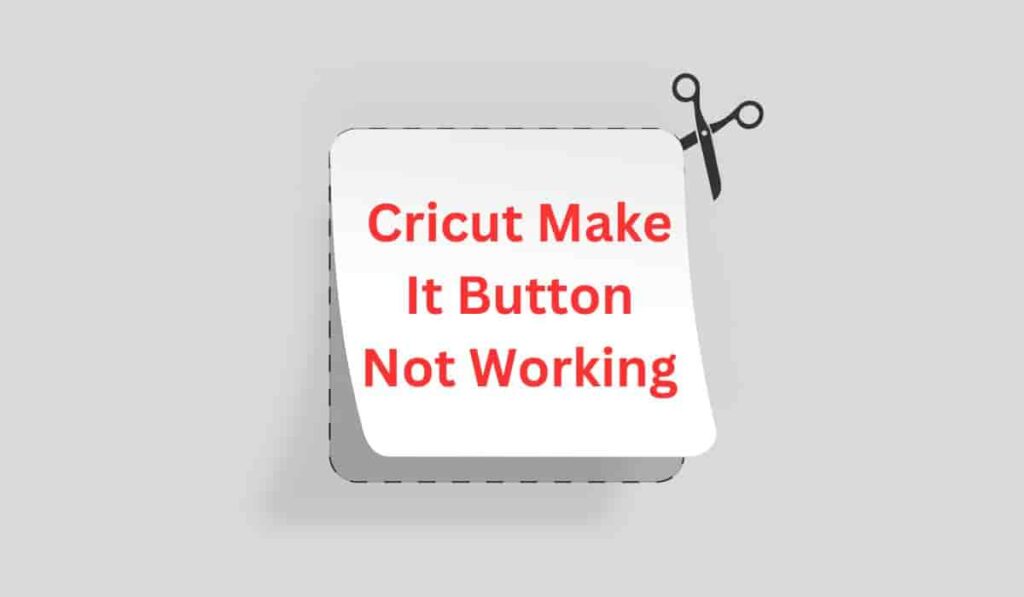 The "Make It" button on the Cricut machine's keypad is used to give commands to print your design onto the material loaded into the machine.
If for some reason the button fails to deliver commands or the button fails to perform its function, the following troubleshooting points will help you.
#1- Ensure the Cartridge is Loaded
If the machine fails to recognize the cartridge, some buttons fail to activate. 
So, if the "Make It" button isn't working, make sure the cartridge is properly loaded into the machine.
#2- Ensure the Cutting Mat is Loaded
A cutting mat is just as important as loading the cartridges.
So if the cartridge is loaded properly and recognized by the machine, check whether the cutting mat is loaded or not.
If the cutting mat is not loaded, some buttons will fail to activate.
#3- Use a Deffrent Cartidge 
Test whether the keypad buttons begin to respond, using a different cartridge. 
If yes, then contact the support for help.
#4- Hard Reset the Machine
By hard resetting your Cricut machine, it is best possible that the buttons will start working again.
So, if any of the buttons not working on the machine, try it and see if it starts back working or not.
Follow the steps to reset your machine according to the model.
#5- Contact Support for Help
If nothing helps even after changing the cartridges and resetting the machine, you will need to contact support for help.
Cricut provides its toll-free numbers for various regions.
Call the number according to your region and they will assist you with your issue. Visit this link to contact them.