Are you getting Netflix Error Code f7111-1331, and the official solution provided by Netflix is not enough for you to get rid of this error? Don't worry- some simple and easy steps are also present that can help you to fix this annoying issue from your screen.
Netflix is an OTT platform having a ton of users streaming on it on daily basis. This platform not only provides the movies and shows made by others but, you can also stream content that this platform provides itself.
As a digital platform, this includes many bugs and errors that can anytime bother you having their appearance on your screen. Error code f7111-1331 is one of these errors but you may also face Netflix Error Code m7111-1935-405001 or Netflix Error Code m7111-1957-205000. Like f7111-1331, these errors may also prevent you to stream your selected content, or sometimes you can't log in due to these errors.
Netflix error f7111-1331
Netflix's official guide says that Netflix error f7111-1331 appears due to cache and cookies files stored in your browser. According to this guide, if you bookmark Netflix to visit, type the URL- www.netflix.com in your browser instead to avoid the appearance of the error code f7111-1331. Also, update your bookmark URL with this URL to avoid the appearance of the error in the future.
But, sometimes, these fixes aren't enough to get rid of the error, you need some other explanations on this. That's why we have carried some extra resolutions that should help when others fail.
How to Fix Netflix Error Code  f7111-1331?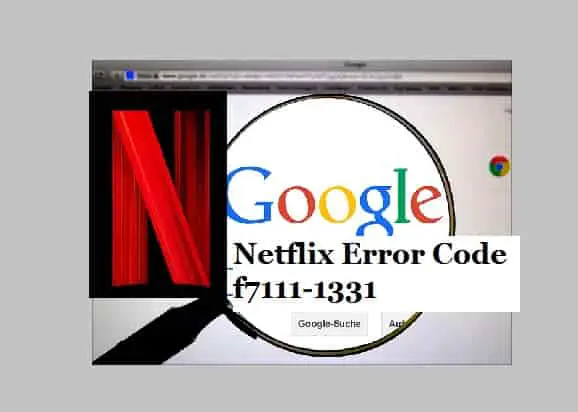 Netflix errors are common these days as the popularity is growing day by day the possibility of getting errors also with that. Millions of people use this platform but, they shouldn't ignore the presence of errors as well. However, some of these errors are very simple to rectify but, some are tough to elaborate on sometimes. Let's start the process that will teach you- how you can fix Netflix error f7111-1331.
Check Internet Connection
The most common scenario when a streaming error exists is due to a weak or unstable internet environment. So, to avoid streaming errors like f7111-1331, check your internet stability. You can perform a speed check and then restart your router or switch to another internet option. 
Restart your Device
This is one of the simplest actions that can prevent the existence of the error code f7111-1331. Mostly, TV users found this activity helpful, so if you have owned a TV on which you are trying to stream content using Netflix, try this. 
Just disconnect your Tv from all the power sources and leave it for a few minutes and then, connect it with the electricity and turn your TV ON. Try streaming your selected choice of content and see if the error is not happening again.
Clear Cache and Cookies data of your Browser to Fix Netflix Error Code  f7111-1331
Your browser stores cache and cookies data when you browse anything on it. Sometimes, these data may get crashed or corrupted which can stop the Netflix content to stream perfectly. So clearing these data may fix the problem of getting the error Netflix Error  f7111-1331.
Type Ctrl + Shift + Delete buttons together on your keyboard.
Or
Press  Ctrl + H, and the history page of your browser will open.
Now, click on Clear browsing data and select all time from the option and then at last, click on the Clear Data button. 
Note: This will work for Chrome users. If you use another browser, clear cache and cookies data from that and check the presence status of the error code.
Check for Server issue
Due to a large number of users sometimes, many users hit the platform at the same time when you are trying to do the same. This may lead to a server outage, as a result, you may face an error code like f7111-1331. 
So checking the server status should be your other choice of action. Netflix itself provides a status checking page or you can visit the down detector to check the current server status of Netflix in your area.
When a server outage is going on, waiting for some time should be your action. After that try again and check if the issue has been fixed or is still as it is.
At last, if nothing helped, you have no other option except to contact the support.
Conclusion
To sum of, the statement said on Netflix's official page, Error code f7111-1331 on Netflix occurs due to the cache and cookies files stored on your default browser. To fix this error, you just need to refresh your browser by clearing the cache files and cookies data.