Your smart tv is a hub of entertainment as it can easily stream content exactly what you want. Sometimes, the entertainment could be intercepted by issues and errors. Here, right in this article, we are going to talk about the error code 109 on your LG TV.
To understand better about this error l, let's see why this appears and what it usually means.
What is LG TV error 109 and why does it appear?
The LG TV Error Code 109 can appear for any user. This error code generally appears when your IP Address is unreachable. Thus, the LG media player faces a connectivity issue. 
So to better understand in a straight line, you can say that error 109 appears when the media player faces a connection problem.
Also Read-
How to Connect your LG Smart TV to WiFi or Internet?
How to Fix LG TV Error Code 109?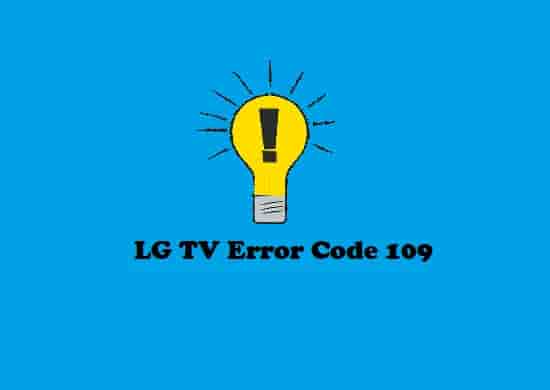 Reset Your Router/Modem
When the media player is not reachable to the internet, you will see either error code 106 ( Disconnected from the local network) or error code 109 ( IP address is not reachable).
When you reset your router or modem, it provides a new connecting environment that could help to establish a connection with the LG media player.
So, resetting your router could solve the error code 109. Just press the power button on your router and all is set. Your internet connection is reset.
See, if the error is there or it has been flown away.
Power Cycle Your Device (Router and TV)
Leave your devices ( router and TV) for 10 minutes after unplugging them from their power sources.
After this time, plug them to the power plug and turn them ON. 
This will work hopefully 😊.
Contact your Internet Service Provider
To deal with your IP address, we would suggest contacting your Internet Service Provider as the technician will help you out.
If the resetting and power cycle of your devices are not any help, contacting the technician will help them.