Are you facing error code S102 on your Virgin Media TV set? Do you not have satisfactory information on this error like- why this is appearing and what should you do to resolve it? In this guide, you will get the information that will tell you these things.
Virgin Media is a British telecommunications company with the services of telephone, television, and internet in the United Kingdom.
There are some errors that users face while trying to use the TiVo box services.  The error code S102 is here that is bothering users. 
Let's understand more about this error code and know how to solve it.☺️
What is Virgin Media Error Code S102?
According to the Virgin Media official help page, Error Code S102 comes in when the TiVo box is unable to acquire channel information.
So, if you are seeing this error code there might be a possibility that the TiVo box is facing some issues.
Let's see what should be the steps to deal with this error.
How to fix Virgin Media Error Code S102?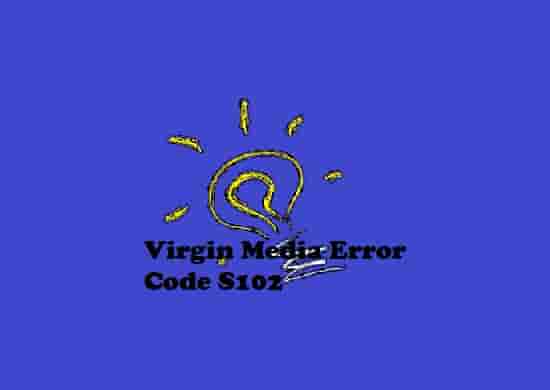 However, the official staff of Virgin Media knows about this error, but they haven't suggested any workarounds that could solve this error from your end.
They only say to contact the support with your Virgin Mobile or another mobile, by calling or sending them a text message.
Among all, we have collected three quick ways that you can perform to deal with this error code.✌️
Power Cycle your TV media Set
One of the best possible solutions that you can try from your side is to power cycle your TV Media Set. However, this is not an official solution but, in some instances, this might be a trick for you.
For many users, this step worked. 
So, if you are facing the error code S102 on your Virgin Media TV, just perform a power cycle of your TV set. This should resolve the issue.
Simply turn off your TV and the media box completely and unplug them from the power sources. Wait for 5 minutes and plug all the cables properly. Turn ON the device set ( your TV and the Media Box). Now, try to access the desired channel.
Check For Virgin Media Server Status 
The servers have to be up and steady to avoid issues with Virgin Media TV. So if you are facing the error code S102 then, we would suggest checking whether the servers are up and running or facing any issues.
To check Virgin Media TV or TiVo server issues or an outage, you can visit Downdetector. If here you are seeing a graph like sea waves, meaning there are ups and downs, then it is clear that the servers are facing problems.
In this situation, you could do nothing as it is not from your side but from the Virgin Media side.
Wait until the issue has not been resolved by the Virgin Media TV developers. 
Contact Support
Mostly the error appears due to an issue from the TiVo or Virgin Media TV side. 
So, the only way that you try from your side to fix the error is to power cycle your entire setup. If this doesn't help, there is no second way that you can do, unless contacting the support.
However, if the issue is due to any server issues, waiting for some time and trying again could be the trick but, if there is no issue in the server, and you are getting the error, then contacting the official support could be the only choice.
Here are the details of the contact:
 Virgin Media phone or mobile users can call on 150 
If you have another phone or mobile – call on 0345 454 1111.
Timing will be – Monday to Friday, 8 am until 9 pm.
On Saturday – from 8 am until 8 pm and on Sunday 8 am until 6 pm.
For text relay service you can call free on 18001 0800 052 2164.