Roblox is one of the best game launcher platforms and also provides various popular games to engage many gamers. If you are getting Roblox error code 913 on your screen then, there is something that you have to notice concerning resolving this error. These steps are mentioned in this tutorial so, read this guide and let's get fix this.
Roblox Error Code 913: A short Description
Getting Roblox Error code 913 can be an indication of your browser's compatibility issue that may prevent you from logging into the game. Additionally, sometimes, security settings in your browser may block the Roblox and prevent performing as normal. So make sure, you are using a recently updated version of your browser. Additionally, check if Roblox is allowed in your browser's security settings or not. If not, then allow it, and try again.
How to Fix Roblox Error Code 913?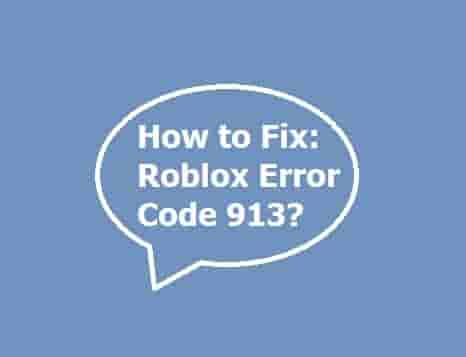 If you are a windows user and getting this error code then, make sure your browser is up to date or you are using an updated version of it. You can follow the guide- How to update your ChromeOS to update your chrome browser and OS.
Security settings must be checked in your browser's settings, and if Roblox is not allowed in it, allow it and try to sign in again. Hopefully, the error will not show again.
Internet Connections and Speed should be examined as poor internet speed or connection may cause an issue. SO make sure you have a good speed and an excellent connection. This process should be done for both windows and Xbox users.
The server status of Roblox should also be checked if you are unable to sign in. There are various tested methods to check it. When servers are down, waiting and trying again will be the best option.
Antivirus may block the Roblox sometimes so, disable your antivirus software temporarily, and when the issue is resolved, enable it. Additionally, if you are using an ad blocker, disable it and try again.
In the case of nothing helping, uninstalling and reinstalling may do help. So, uninstall the Roblox and download it again from the official website and relaunch it.
Also, you are free to contact Roblox Support if you found that any of the above-mentioned methods are not useful for you.