Roblox accounts can be accessed on many devices such as Windows, Mac, and Xbox One. Sometimes, when you go to access your Roblox account you may face an error such as Roblox Error Code 912. This guide will explain what this error code is and how you can throw away this from your screen.
What is Roblox Error Code 912?
Roblox error code 912 typically denotes an account issue that says "Your Xbox live account is already linked to a Roblox account: Error Code 912." This error code usually appears when your Xbox live account detects another Roblox account that is linked prior.
How to Fix Roblox Error Code 912?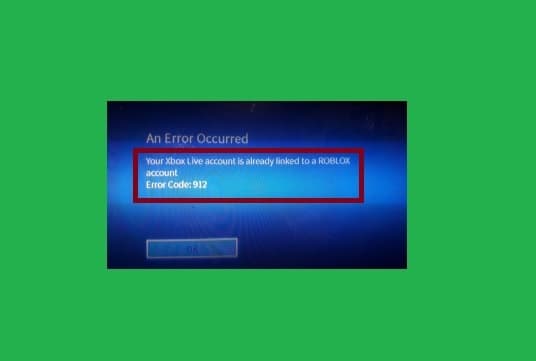 Disconnect All logged-in devices from Roblox Account
Identifying all linked accounts is a quite tough task as there is no feature are available on Roblox to do this. The only thing you can do is disconnect all the devices from your Roblox account. This can be done easily. Follow our guide on How to Disconnect all the signed-in Devices from a Roblox Account.
Note: When you go to disconnect the devices from your Roblox account, check if the Xbox device is appearing in the connected devices list or not. 
Logging out from all other devices helped many users, so hopefully, this will also work for you. Now, what should be the next action? Below is mentioned.
Unlink and Re-link Xbox and Roblox Account
Also, try to unlink your Roblox Account from your Xbox Live account. But, make sure you have remembered your correct user name and password to do this. If you have forgotten your password then, you can reset it and create a new one. After that try to unlink your Xbox account and Roblox account.
If you have remembered your correct user id and password then, proceed to the below-mentioned steps:
Press the X button and access the settings menu.
Next, click on UNLINK [YOUR GAMERTAG].
After unblinking, relink your Roblox account and hopefully, the error will be no longer.
Contact the Roblox Support
If nothing helps, contacting Roblox Support will be the last option for you. Without any hesitation, get in touch with the support staff of Roblox and tell them the exact issue. Hopefully, they will be able to resolve your issue.